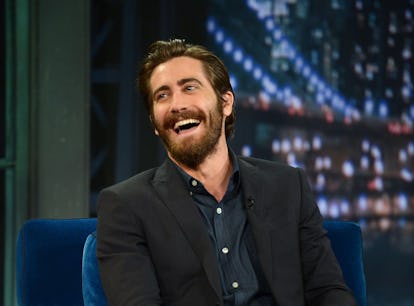 Hi, Just Some Jake Gyllenhaal Late-Night Show Clips For No Reason At All
Definitely not because I'm feeling emotionally crushed by the new "All Too Well" lyrics.
Jason Kempin/Getty Images Entertainment/Getty Images
*Removes AirPods* Sorry, what did you say? I couldn't hear you, I was listening to Red (Taylor's Version). Oh, you said you recently developed a curiosity about Jake Gyllenhaal's oeuvre of late-night appearances? Hmm! That's so funny — I was actually just thinking the same thing.
You know, now that you mention it, Gyllenhaal is widely rumored to be the source of inspiration behind Taylor Swift's iconic 2012 ballad "All Too Well." They reportedly dated from October to December 2010. Gyllenhaal never publicly addressed the song, and although Swift never confirmed who she was writing about, she did serve up plenty more heartbreaking details in her new 10-minute recording that dropped on Nov. 12.
For example, one lyric calls out her unnamed ex for putting on an act around her family: "You who charmed my dad with self-effacing jokes/Sipping coffee like you're on a late-night show." (Great song, 10/10, I can't wait to scream-sing this at karaoke after my next breakup.)
Anyway, I rounded up a few clips of Gyllenhaal on a variety of late-night shows. Since we happen to share the same weirdly specific interest, I did us both a favor and took notes based on some totally random criteria. Are you ready for it?
Anyway! It's been so lovely to bond with you over our mutual interests and hobbies. I apologize if any of my comments came across as casually cruel — I was just being honest. I'm gonna run, I need to finish listening to this album. Bye!