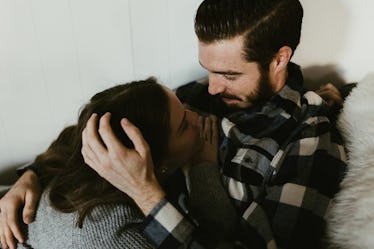 12 Easy, Thoughtful Ways To Cheer Up Your Partner
Yes, one of them involves food.
I am currently in my first serious relationship ever, and to be honest, one of the most surprising parts of the experience is how much you're physically capable of caring about another person's feelings. When your partner is sad, you're sad. You want to do everything to help them. Unfortunately, figuring out exactly how to cheer up your boyfriend or girlfriend isn't as straightforward as we'd all like it to be, but we can learn from others' experiences. In a Reddit AskWomen thread, women shared the ways they support their partners when they're feeling down, and I have some of their best tips here for you.
If you're stuck pondering what to do when your boyfriend is sad or your girlfriend is having an upsetting day, read along and remember these tips next time your partner is in need of some serious cheering up.
Overall, when your partner is sad or stressed and needs some cheering up, being a good listener and doing all the things that you know they love will mean the world to them. OK, now go off and be the amazing partner you were meant to be with these tips in mind.
Studies referenced:
Yuen, H. K., & Jenkins, G. R. (2020). Factors associated with changes in subjective well-being immediately after urban park visit. International journal of environmental health research, 30(2), 134–145. https://doi.org/10.1080/09603123.2019.1577368
Sahi R.S., Dieffenbach M.C., Gan S., Lee M., Hazlett L.I., Burns S.M., et al. (2021) The comfort in touch: Immediate and lasting effects of handholding on emotional pain. PLoS ONE 16(2): e0246753. https://doi.org/10.1371/journal.pone.0246753
Neumann I. (2007) Oxytocin: The Neuropeptide of Love Reveals Some of Its Secrets. Cell Metabolism Vol 5, Issue 4. DOI:https://doi.org/10.1016/j.cmet.2007.03.008
Experts:
Laurie Davis Edwards, love coach and founder of The Worthy One
Justin Lavelle, dating expert and Chief Communications Officer of online background check platform BeenVerified
Rebekah Montgomery, Ph.D., psychologist and relationship expert
Chelsea Hudson, licensed therapist and founder of Cityscape Counseling
Dr. Joshua Klapow, clinical psychologist
This article was originally published on