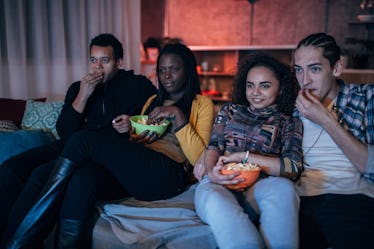 The Holiday Rom-Com You'll Love The Most, Based On Your Sign
May all your movie nights be merry and bright!
You dug up your coziest set of embroidered snowflake pajamas, your warmest red and white-striped blanket, and your biggest snowman mug for your peppermint hot cocoa. Just add a couple of blazing logs and a light snow flurry and you've got yourself all the makings of a glorious, wintry movie night. The only hard part? Picking out the movie that you're actually going to be watching. But whether you're a fun-loving Gemini or a creative Pisces, the secret to finding the holiday rom-com you'll love the most is closer than you think — just let the stars be your guide.
Equipped with your sister's Netflix, your ex's Hulu, and your current boo's Disney+ passwords, there are more movie options at your fingertips than ever. And while astrology can't dictate everything, you can lay back, relax, and let your sign lead you to the perfect winter movie.
No matter your romantic status, snuggling up to a seasonal rom-com can be a cute and cozy way to spend a cold winter night and get you into the holiday spirit. From feel-good classics like The Nightmare Before Christmas that you like to watch year after year to new Netflix flicks, there's a holiday rom-com out there for everyone — you just need to find it.
And if the popcorn is popped and the lights are dimming, here's the holiday rom-com you'll live for this winter, astrologically speaking.
This article was originally published on