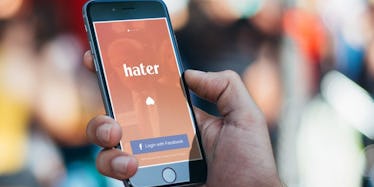 'Hater' Is A Dating App That Connects You To Guys Based On What You Both Hate
Hater
Ya dog gone done it again, technology. You've created the ultimate dating app for young people everywhere.
"Hater" is a new app launching February 8 that matches you with other users based on mutual dislikes. I mean, isn't that what true love is based off of anyway? Hating all of the same things? If not, bae and I need to have a real talk.
The Hater motto is, "Meet someone who hates the same stuff," and TBH, you had me at "hate."
Here's how it works:
Hater has a list of over 2,000 topics (like cargo shorts, Donald Trump, slow walkers and paying extra for guacamole) that will display on your phone. The user has the option to swipe down for hate, up for love, swipe right for like and left for dislike. OR you can opt out of choosing a feeling at all (if you're dead inside).
Users also have the ability to see how the percentage of other "haters" opinions play out.
Once a user tallies up a few swipes, they will start to be matched with other users who hate the same things.
I mean, that sounds pretty legit.
The Cut reports that the creator of the app is actually a comedian, and the concept came from a comedy sketch idea.
Hater CEO (and former Goldman Sachs employee) Brendan Alper says, "The more I thought about it, the more I thought 'Hey, even though this was a funny idea, it actually makes a lot of sense.'"
And he's right.
A social psychologist at the University of South Florida, Jennifer Bosson, led a series of studies looking into how people bond via positive and negative attitudes, according to The Cut.
Her results showed people tended to feel a greater connection with one another if they shared a common dislike rather than a shared interest.
In my case, I think it makes total sense. For example, I know I could never match with someone who loved Trump, hated puppies or was neutral toward Beyoncé.
Hey Hater, I love you.
Citations: This New Dating App Will Find You Someone Who Dislikes All the Same Things (nymag)