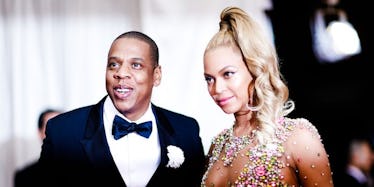 What Your Favorite Grammy-Nominated Song Says About Your Relationship
REX/Shutterstock
Ahh, awards season. 'Tis the season for celebrity couples, amazing performances and lots of Beyoncé.
This year's Song of the Year nominees all have a special place in our hearts. But if you had to only pick one song, or else Beyoncé would never come out with another album ever again, what song would you choose?
Probably a song that resonates with you right now, right?
Well, whichever one pulls at your lovely little heart strings is the one that reflects your current relationship status.
Are you and your partner more of a Bey and Jay type, or are you currently suffering from what I like to call "Adele Syndrome?"
Here is what your favorite Song of the Year Grammy Nominee says about your relationship. 
Boy, bye.
If this is your favorite Grammy-nominated song right now, you're probably fiercely independent and confident. And for those reasons, you and your partner don't need a ton of together time.
You likely link up to have a night out on the town, throw epic parties or (like Bey and Jay) come together when the other needs horsepower.
But overall, you're capable of doing your own things and enjoy each other's company for company's sake, not out of necessity.
Lyrics you live by: Sometimes I go off / I go hard / Get what's mine / I'm a star 
Uh oh. You're a feeler. You and your significant other probably talk a lot. Like, a lot. And friction shows up in your relationship when you feel misunderstood or unheard.
That being said, when you say you love each other, DAMN do you mean it. Words are very important to you, so you choose yours carefully and would never say anything to your boo-bear that you didn't really mean.
Lyrics you live by: They say time's supposed to heal ya, but I ain't done much healing
"I Took a Pill In Ibiza" - Mike Posner
Chill vibes and good times is the name of the game for you.
Your relationship is probably a blast on the surface, and much "wider" than it is "deep," meaning you both are constantly looking for new experiences and enjoy life, but are careful not to hang onto anything too tightly.
This likely means you have a lot of fun together, but have trouble opening up to one another or allowing real bonds and depth to grow.
Lyrics you live by: And when I finally got sober / felt 10 years older / But fuck it, it was something to do
Man, oh man, are you used to you and your partner being the "cool" ones in the group.
You generally subscribe to the phrase "power couple," but underneath, there is a lot of drama boiling. Like Justin and Selena's old relationship, when things are good with you and bae, things are REALLY good. But when things are bad... damn, honey, are they bad.
You're both likely impulsive and can strike below the belt, taking things very personally and holding grudges. Sweet pea Biebs has already mentioned he will not be attending the Grammy's if Selena is there with her new boo, The Weeknd, and honestly, you don't blame him for being petty.
Lyrics you live by: Now I know, I'm better sleeping on my own
"7 Years" - Lukas Graham
I don't know... are you even in a relationship?
Just kidding. But this song is so whimsical and daydreamy, you might find yourself asking yourself super big questions about your future, ruminating on the past and having a hard time being present.
Likely, big milestones, like anniversaries, or any "big life changes," like moving in together or having an unusual disagreement, have lasting effects on you and your partner. It can be hard for you to let things go if you don't feel closure or like it's 100 percent resolved.
Lyrics you live by: It was a big big world, but we thought we were bigger
Whatever your nominee vote may be, be sure to tune in Sunday, February 12, saddle up with bae on the couch and watch the fireworks!
And, uh, maybe talk about your possible relationship problems.