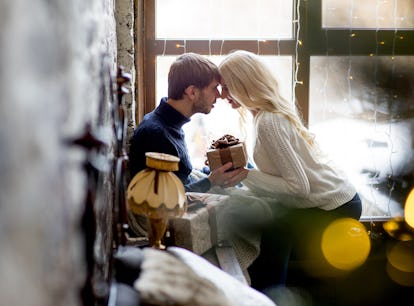 16 Holiday Gifts Under $50 That Your Partner Will Be *So* Stoked About
Shutterstock
It's that time of year — when you're tasked with finding something that will put a massive smile on your SO's face. And who doesn't enjoy seeing their boo's face light up when they open the gift they so thoughtfully picked out? The internet is a goldmine of great ideas, but admittedly, it can get a little overwhelming scrolling through the hundreds of portable speakers or grooming kits on Amazon. Don't fret, though: I've rounded up an array of gifts under $50 to buy your partner for Christmas, Hanukkah, and Kwanzaa that are sure to be a hit.
The first step to finding the right gift is simply thinking about what makes them happy. Have they been listening to a lot of new music lately? Do they end every workday with a craft beer? Did they drop a not-so-subtle hint about needing to focus on self-care? Whatever the case may be, if you can find a present that speaks to their current priorities, you're on the fast track to blowing your partner away.
Whether you're looking for a gift that's more practical or just plain fun, here are a handful of ideas that they'll definitely want to brag about on their Insta Story.
No matter what your budget is, at the end of the day, it's the thought that counts. By prioritizing your partner's interests when picking out a gift for them, you can show you care without breaking the bank.
This article was originally published on