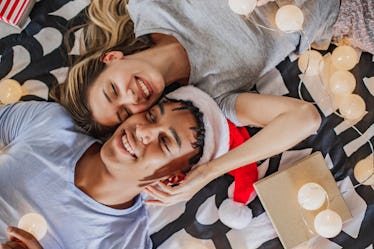 14 Holiday Gifts Under $100 Your Partner Will Fa-La-La-La-Love
Almost as much as they love you.
blackCAT/E+/Getty Images
Don't ask me why, but sometimes, getting presents for relative strangers is way easier than buying gifts for the people you know best. The more you love someone, the more effort you'll likely put into picking out the perfect thing, and a gift card probs won't cut it. The best presents tend to be thoughtful, personal, and actually useful, and I've got some suggestions for gifts under $100 to buy your partner for Christmas, Hanukkah, and Kwanzaa that check all those boxes. Whether they're a foodie, a traveler, or a cuddle lover, these holiday gift ideas have something for everyone — and best of all, they're all under $100.
There may be a ~perfect~ present out there for your boo, but don't stress yourself out too much trying to find it. When you give your SO a gift from the heart, they're sure to appreciate it no matter what, even if it's the wrong size or not quite their style. (At least, I hope so.) IMO, the most important thing to consider is what your boo will put to good use, because no one wants to see a present go to waste. Need some inspo? One of these 14 holiday gift suggestions may be just what you're looking for.
These A+ gifts def won't be banned to the back of your boo's closet or completely break the bank.
This article was originally published on