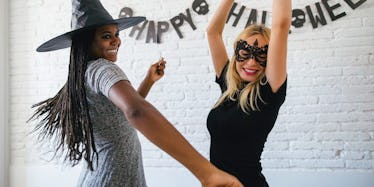 5 Insanely Sexy Halloween Costumes To Help You Lay Down The Perfect Thirst Trap On Instagram
BONNINSTUDIO/Stocksy
If Halloween is your favorite holiday, then you are my kind of person. In fact, Halloween is the only holiday that I officially acknowledge, other than my birthday. Additionally, if there's one thing I know and love, it's thirst traps. So, to combine my two areas of expertise, I've compiled a list of funny thirst trap halloween costume ideas. No, I'm not just talking "sexy cop," "slutty nurse," or "hot fireman." A thirst trap costume can't be too obvious. Otherwise, you verge on the side of desperate. This isn't a frat party during your freshman year of college. (Or maybe it is, but we can do better than that.)
There are several components a thirst trap Halloween costume needs in order to be successful. It has to be topical, a bit funny (this is important), Instagrammable, and able to make you look and feel really good. That's a lot of moving parts. So to avoid the emotional turmoil that is figuring out what to wear for Halloween, here's a list of sexy, funny, thirst-trappable costumes to wear out this All Hallows' Eve. I guarantee you're bound to get a lot of likes — online and IRL.
As soon as I found this costume, I thought, "Wow, this is definitely what I am going to be for Halloween." To me, there is nothing sexier than the Na'vi from Avatar. They were physically fit, spiritual, had sex by linking their braids together, and cared deeply for the environment. Talk about being woke!
Form-fitting body suits are also very flattering, and it's a great opportunity to experiment with fun and interesting makeup, which is what Halloween is all about. There are plenty of informative tutorials about this online, including this one:
You can also buy a wig and an Avatar makeup kit on Amazon to complete your entire sexy look.
Want to be a feminist icon for Halloween? The first real female superhero on the big screen? A record breaker? Ass kicker? Well, then, this is the costume for you. I can safely say I have seen this movie 12 times, and I also bought it on iTunes. I was a little excited about it.
Luckily for you, you can buy the crown, headdress, and wrist guards to fully complete your look, all available on Amazon, too.
I don't need to tell you that foot fetishes are one of the most common kinks out there. So if you want to be truly sexy, dress up as a foot for Halloween. I know what you're thinking: A foot? That is not hot. But believe me, you will get nonstop attention at any party you go to as soon as your toes walk through the door.
To honor the memory of Queen Carrie Fisher, dress up as Princess Leia for Halloween, because there's no better way to remember a feminist legend than to engage in a bit of character cosplay.
And if you want to turn this into a couples costume, you can always have your significant other dress up as Jabba the Hut.
If you want to get through an entire Halloween evening without talking and only making weird noises, then dress up as a sexy Minion. This is a great costume for a group of friends as well, because when you get too drunk and start bumping into one another and begin talking in tongues, people will just think you're in character and not embarrassing yourselves. See, I'm not only offering you costume ideas, but I'm looking out for you as well.
Do you have any sexy Halloween costume suggestions, other than a foot or a sexy Avatar? Let me know in the comments. Maybe I'll steal one of them for Halloween. Although, I might get a lot of likes with that foot costume on the dark web.
Check out the "Best of Elite Daily" stream in the Bustle App for more stories just like this!