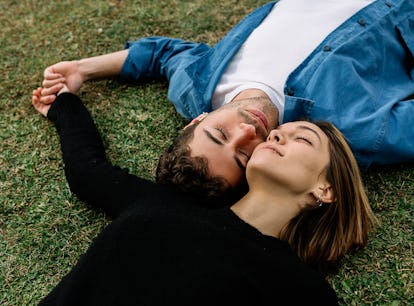 10 Things To Remember When Your Ex Gets Engaged
It's OK to feel your feelings.
Westend61/Westend61/Getty Images
It's OK to admit that you still follow the lives of your exes on social media or choose to block them entirely — there's no wrong answer. Amicable or otherwise, breakups can leave a soft spot of interest that's easily reignited regardless of how much time has passed or if it's fueled by hurt or just curiosity. When something big happens in an ex's life, it's hard not to look — and when your ex gets engaged, it's even harder to look away. If your ex just got engaged, chances are, you're feeling some type of way — and let's be real, it's totally natural to have mixed emotions.
No matter how you feel about your past partners, it's completely normal to take note and be interested in an ex's engagement announcement. You had an intimate relationship with them in the past, and seeing them commit to someone else could bring back some strong emotions — and not always positive ones — even if you've long moved on. You know it's not your fault at all, and their choice to be with this person has nothing to do with you. But still, your first thought might be to wonder what made your ex choose to settle down with someone else.
"As far as your brain goes, it's like having a severed limb," Nicole Richardson, a licensed relationship therapist, tells Elite Daily. "Finding out that your ex is getting married is a lot like being reminded, 'Oh, hey, remember when your leg fell off? Remember how much that hurt?'" It brings back those old wounds even after you've worked hard to heal them.
If you find yourself feeling some type of way about an ex getting engaged, read on to find 10 things to keep in mind.
This article was originally published on