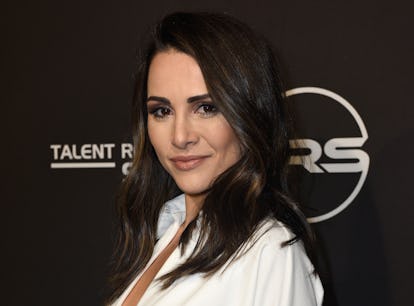 7 Engagement Rings Like Andi Dorfman's, But For Way Less Money
Go ahead, frost yourself.
FilmMagic/FilmMagic/Getty Images
Grab your wine and red roses, people — the fan favorite Season 10 Bachelorette is getting hitched! On March 30, Andi Dorfman shared that she is engaged to non-Bachelor Nation boyfriend Blaine Hart. The duo, who actually met 15 years ago, began their relationship in Italy during summer 2021. Straight out of a romance novel, right? After watching Dorfman fall in and out of love on The Bachelor and The Bachelorette, fans are so excited to see her get the happy ending she deserves. Not to mention, Andi Dorfman's engagement ring is seriously stunning. (BRB, Googling cheaper versions of her ring as we speak.)
But back to the ~romance~: Dorfman tells Us Weekly that Hart had been hitting her up for quite awhile, even before they reconnected. After they realized they were both in Italy (Hart for a friend's wedding and Dorfman on a summer trip with her friends), Hart said, "I'm coming to see you and taking you out for drinks." Dorfman said they've been together ever since.
Dorfman and Hart's proposal story is gaining major attention from Bachelor Nation fans everywhere. Picture the scene: Dorfman and Hart were enjoying cocktails on the beach in L.A., they went on a sunset-lit walk along the water, and bam, Hart popped the question. "I don't even remember what he said, I just remember hugging him and crying. I didn't even remember seeing the ring at first," Dorfman told People. If you think the proposal can't get any more perfect, just wait. Hart surprised his new fianceé with both their families and Dorfman's closest friends, who waited at home to celebrate their love! Apparently, everyone was in on the surprise.
As the happy couple continues to celebrate their upcoming nuptials, the rest of us can dream of sunset beach proposals and finding our happily ever after with these seven engagement rings like Andi Dorfman's, but for way less money.
We all know the Bachelor Nation engagement rings are iconic, but Dorfman's blew most of them out of the water. (Sorry, Neil Lane!) Not only is her ring stunning, but the emotional connection that Hart and Dorfman have to it is just as special. This ring, plus the beachside proposal and adorable family gathering, makes their engagement story one for the Bachelor proposal handbook — even if it wasn't hosted by Jesse Palmer.
Although you might not be able to replicate every aspect of her proposal, if you're looking to twin with Dorfman, there are plenty of engagement rings out there that will fit the bill.