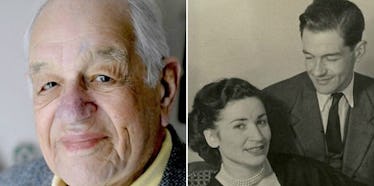 Couple Who Fled Nazi Germany And Fought In WWII Die Together Via Suicide Pact
REX/Shutterstock/Scotsman.com
Every so often, a love story comes along that shames "The Notebook" into submission and brings Nicholas Sparks to his knees.
For one incredible couple, their journey through life, love and death does just that.
94-year-old Colin Anson and his wife Alice, 91, died 11 days apart after making a suicide pact, promising they would die together when the time came.
Together, they agreed that they did not want to cause suffering or pain to their families in their old age, and they vowed to take care of each other until the very end.
After expressing their intentions, a friend gave the couple painkiller tablets last June, and the two saved them with the intent to use them one day. So when the time came, the two took the tablets.
But in a failed attempt to overdose, Mr. and Mrs. Anson were forced to call an ambulance and were subsequently rushed to the hospital from their home in Watford, England.
Their intentions were clear, as they left a suicide note to their family that said, "We've had a long and happy life, what more could one expect?"
Ultimately, the couple passed away due to bouts of pneumonia that were ultimately brought on by their overdose.
In a statement, Coroner Geoffrey Sullivan of Hertfordshire said,
A very full life was lived by both and, from information taken from the family, I heard they were very keen to preserve their independence and felt strongly when their health deteriorated sufficiently they would take their lives into their own hands. I've heard the background to their full and eventful lives and their wish to bring them to an end when they deteriorated and how they voluntarily did it together.
Talk about true love.
As if the suicide pact isn't weirdly the most romantic thing you've ever head of, Colin and Alice actually met as teenagers in Britain, after fleeing their countries once Nazi Germany had occupied them during World War II.
Mr. Anson was born with the legal name Claus Leopold Octavio Ascher, but he changed it in the 1930s when he made it to Britain.
His father was one of Adolf Hitler's political opponents and unfortunately passed away in the Dachau concentration camp. Anson went on to honor his father by joining the Royal Marine Commandos.
Born to Jewish parents, Mrs. Anson and her family fled Germany on the same Kindertransport to Britain, where she ultimately met Colin in a London cafe while he was drinking tea with his mother.
From there, she went on to volunteer with the Woman's Aid well into her 90s, and she also worked as a WAAF photographer, locating the launch sites for Hitler's V1 flying bombs.
What an incredible couple indeed.
Colin and Clair Anson are currently survived by their three children, seven grandchildren and one-great granddaughter.
Citations: Couple who escaped the Nazis to become heroes in the fight against Hitler died aged 94 and 91 in suicide pact they had planned for decades Read more: http://www.dailymail.co.uk/news/article-4316922/Couple-died-suicide-pact-years-earlier.html#ixzz4bVGj0rgx Follow us: @MailOnline on Twitter | DailyMail on Facebook (MailOnline)