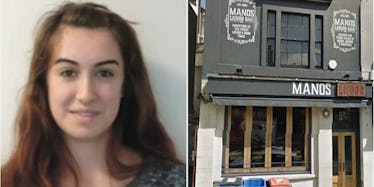 Woman Who Left Bar With 2 Men Sends Mysterious Last Text Before She's Found Dead
LinkedIn/Google
A young woman sent a string of texts to her ex-boyfriend in the hour before she killed herself at her home, an inquest has heard.
Maxine Wiley died hours after surveillance cameras spotted her leaving a cocktail bar with two unidentified men near her home in Bristol, England.
Between 9 am and 10 am in the morning, the 23-year-old bar manager repeatedly messaged her ex William Buddo asking him to look after her pet hedgehog, the Bristol Post reported.
At about 10:30 am, she told him she had "done a bad thing" before sending a final text reading, "I don't feel very well" at 10:42 am.
Buddo, concerned for her safety, arrived at her apartment above a pub in central Bristol and broke in through a window after Maxine didn't respond to knocks at her door.
He discovered she had hanged herself at about 11:20 am, the inquest in Somerset heard.
Buddo called emergency services and attempted to revive her, but she was pronounced dead by a paramedic shortly after 12 pm.
The inquest was told she left Manos Liquor Bar with two men at 2 am on September 2 last year.
Her father, Anthony Wiley, said,
She was having fun and I am not seeing anything untoward. At 2 am, I know she left with two males. Were any of the people she was with spoken to by the police?
In response, sergeant Andrew Mason said officers never identified or interviewed either of her companions, who were the last people to see her alive.
Their decision not to pursue the men came after an investigation found no evidence of third-party involvement in her death.
Tests revealed the former engineering student at Bristol University had alcohol in her blood, as well as traces of cocaine and MDMA.
Wiley said,
I was aware she had taken MDMA in the past and we were assured this was all in the past.
Giving his conclusion, assistant coroner Dr. Peter Harrowing said the death would not be ruled as a suicide because a note detailing her intentions was never found.
He said,
I am not going to give a conclusion of suicide but my narrative conclusion was Maxine Wiley died as a result of hanging. Her intention was unknown.
In a statement, Bristol Grammar School described their former student as "popular" and paid tribute to her sense of humor.
Citations: Maxine Wiley found hanged hours after being seen leaving club with two unknown men (Bristol Post)