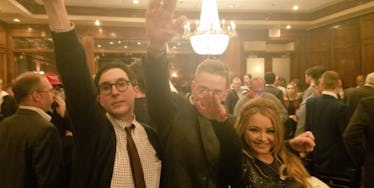 'Nazi' And 'Hail Trump' Are Currently Trending Topics Because 2016 Y'all
Twitter
Just in case you needed more proof 2016 absolutely sucks, "Nazi" and "Hail Trump" were among the top-trending topics on Twitter on Monday evening due to a conference white nationalists held in DC over the weekend.
This is where we are as a country right now.
On Saturday, hundreds of white nationalists congregated in our nation's capital at the Ronald Reagan Building for the annual conference of the National Policy Institute (NPI).
The leader of this gathering and the head of NPI, Richard P. Spencer, gave a speech to those in attendance.
He began his remarks by shouting,
Hail Trump, hail our people, hail victory!
The crowd responded to Spencer with cheers and Nazi salutes.
Spencer went on to refer to the mainstream media as the "Lügenpresse," a term the Nazis used to describe their critics in the press.
Amid more Nazi salutes and continued applause, Spencer added,
America was until this past generation a white country designed for ourselves and our posterity. It is our creation, it is our inheritance, and it belongs to us.
Yes, these words were part of an actual speech delivered in 2016 in Washington DC roughly two weeks after Donald Trump won the election.
You can watch a video of Spencer's speech, courtesy of The Atlantic, below.
Spencer is the leader of the alt-right movement. He actually coined the name "alt-right."
The alt-right movement is a hate movement.
Here is how the Southern Poverty Law Center describes Spencer,
As head of the National Policy Institute (NPI), Richard Spencer is one of the country's most successful young white nationalist leaders — a suit-and-tie version of the white supremacists of old, a kind of professional racist in khakis.
Spencer and his group of white nationalists are celebrating Trump's victory for a number of reasons, but largely because the president-elect just selected Stephen Bannon to be his chief strategist in the White House.
Bannon is the former head of Breitbart News, which he once described as the "platform for the alt-right."
In other words, the man who ran the most popular news outlet for white nationalists is going to be one of our next president's closest advisors.
At the conference over the weekend, it was quite clear Trump's victory and Bannon's appointment has emboldened these white nationalists.
So, as we enter the final weeks of 2016, it seems some of the happiest people in the US are Nazi sympathizers.
Hopefully, President-elect Trump will not fulfill the desires of the alt-right movement and uphold his promise to be a president for all Americans instead.
But if you're having trouble being optimistic right now, no one could blame you.