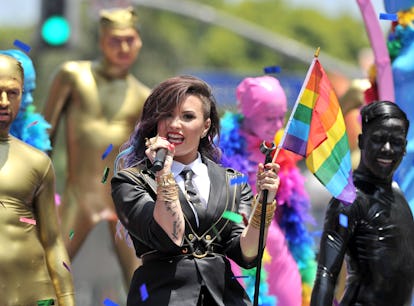 24 Celebrities Share The Moment They Realized They Were LGBTQ+
No two experiences are the same. 🌈
Axelle/Bauer-Griffin/FilmMagic/Getty Images
Understanding your sexuality doesn't happen overnight, and for many, it's a lifelong journey. And while LGBTQ+ celebrities often serve as an inspiration for fans, and it can be easy to forget those celebs weren't always out and proud. Some LGBTQ+ actors, musicians, and other public figures explored their sexuality in private for years before coming out to the public because — while sometimes you have a lightbulb moment — discovering you're part of the LGBTQ+ community can also be a gradual realization. Celebrity quotes about realizing they're LGBTQ+ prove every journey is distinct.
"Coming out, or 'inviting in,' looks different for everyone, as we all have our unique paths to understand and to accept ourselves with relation to our gender and sexual identities," Jor-El Caraballo, co-creator of holistic wellness center Viva Wellness and a therapist specializing in LGBTQ+ clients, previously told Elite Daily. Likewise, everyone's first experiences with exploring and challenging their identities are one-of-a-kind.
While it's totally up to everyone to decide what parts of their life (if any) they want to share with the world, you may just find solace in these candid quotes from LGBTQ+ stars who understand that confusion and experimentation are part of the process — as are peace, love, and joy.
Realizing you're a member of the LGBTQ+ isn't always a lightbulb moment, but when it happens, it's always a beautiful thing.
Expert:
Jor-El Caraballo, therapist and co-creator of holistic wellness center Viva Wellness