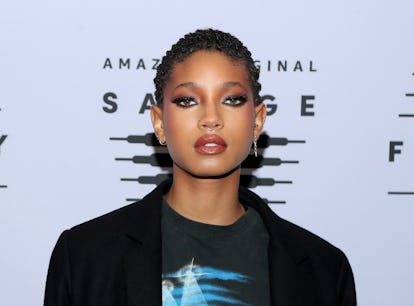 These 7 Celeb Quotes About Polyamorous Relationships Are Enlightening
Relationship don't have to be monogamous to be successful.
Jerritt Clark/Getty Images Entertainment/Getty Images
A pair, a couple, a duo — so many of the words used to describe a union involves two people, as that is considered the "norm" in Western society. But just like gender and marriage, monogamy is a social construct, and for some people, the idea of being monogamous with one partner at a time just doesn't work. While you don't often hear public figures discuss non-exclusive partnerships, a few have, and celebrity quotes about polyamory may just remind you that monogamy isn't the only way to love.
Some celebs — like Kristen Bell, Scarlett Johansson, and Cameron Diaz — have simply expressed skepticism about monogamy as a concept. Others — such as Kaitlynn Carter and Brody Jenner — have discussed their open relationships, where there's a primary partnership between two people who permit each other to be sexually involved with others outside of their relationship. But according to sexuality educator and social worker Aida Manduley, polyamorous relationships are a little bit different from open relationships.
"Polyamory is a type of non-monogamy identified by its focus on having multiple relationships with the consent of all people involved, and by its not shying away from emotional/romantic involvement," they previously told Elite Daily, whereas outside "adventures" in open relationships are "usually just sexual" in nature. Poly partnerships involve consent from all partners, as well as plenty of trust and communication, and these quotes from celebs who have been in polyamorous relationships may just open your mind to the possibilities.
If you're not sure whether monogamy is for you, then it may be time to give a polyamorous relationship a shot.
Expert:
Aida Manduley, sexuality educator and social worker