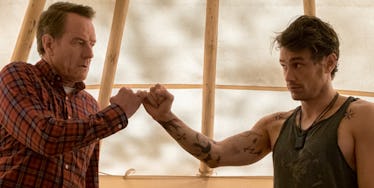 This Quiz Will Tell You If It's A Good Idea To Bring Your Guy Home To Your Parents
20th Century Fox
This year has been a serious crapshoot when it's come to dating, but lo and behold, you think you've finally found a decent guy!
Through some trial and error, you've managed to lock down someone of actual substance. He's (relatively) charming, he makes you laugh (most of the time) and he doesn't smell half bad.
Could he actually be suitable to bring home and introduce to your (slightly judgmental) parents? You're not exactly sure if he's "the one," after all.
Plus, you're still in the midst of questioning whether or not he'll even vibe well with the atmosphere of your childhood home.
Did you grow up where your door was permanently glued open, and if you broke a 9 pm curfew, you were grounded for an unreasonable amount of time?
If not, were you blessed with "cool" parents who supervised all your underage drinking, and occasionally crushed you during friendly games of beer pong?
How well this first meet-and-greet goes is very dependent on your parents, how they raised you, and of course, their general outlook on your dating life.
Even though I've technically never brought someone home (the one time I did, my parents met him as my "friend," and then we ended up hooking up that night... so it was weird/doesn't count), I'm confident anyone who walked through that door would be welcomed with open arms and a plate full of food.
I've only had the pleasure of introducing my short-term suitors to large groups of my very aggressive friends — and even that gave me some serious anxiety.
Forget about full-on meeting the parents. If my friends didn't think they're perfect, they're never going to see Mr. and Mrs. Abrams.
Now, I'm weeding out various types of men until I uncover what works and what doesn't, the difference between Mr. Right and Mr. Right Now and who I consider suitable enough to take home to good 'ol Ma and Pa.
So instead of forcing yourself through a slew of failed dates like I used to do, I've decided to spare you the trouble and gift you with a quiz that'll tell you if the guy you're dating is worthy enough to meet your parents.
Ain't it a holiday miracle?!
He might not end up being the one, but hey, that doesn't mean he's not good enough to meet dear old Mom and Dad.
You never know who will sweep you off your feet!