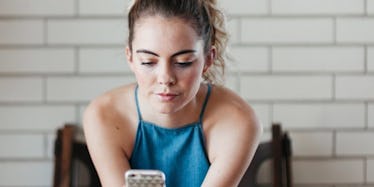 4 Of The Best Tinder Icebreakers To Use When You Suddenly Forget Every Word Ever
Kayla Snell
The other day, I thought I saw the man of my dreams on Tinder. He was tall, had a motorcycle, and was covered in tattoos. Come to think of it, he was probably the man of my nightmares. But either way, we matched, and I couldn't wait to message him.
However, I was so nervous that I didn't know what to say to this guy on Tinder. So I said this: "Ayyyyy, daddy!" Needless to say, he did not respond.
It's tricky to figure out what to message someone to actually spark a good conversation. I typically just say "hi," which leads to an incredibly boring, go-nowhere talk about nothing. On the other hand, though, if you say too much, you're coming off too strong, and sometimes, jokes like "Ayyyyy, daddy!" don't land.
So if you're stuck on how to break the ice on a dating app (like I am, apparently) here are some of the best Tinder openers to use when you suddenly forget how to speak... because that tattooed guy on a motorcycle has you at a loss for words.
1. "So Excited To Start Our Life Together!"
Sometimes, when you're nervous, you can come off as cold, overly sarcastic, or aloof. Saying something like this is a fun and flirty way to get the conversation started instead.
Now, this is obviously a joking line, but it's a great way to find out if the guy you matched with has a good personality. If he doesn't answer you, or doesn't understand that you're kidding, then he's a dud, and you're better off without him anyway.
2. "You're The Cutest Guy I've Seen On Here."
How can you not respond to flattery?
When in doubt, just dole out a compliment. A woman who is not afraid to tell a guy how she feels and freely expresses her attraction is a woman who is confident and owns her sexuality. Who wouldn't want to have a conversation with a girl like that?
Too often, we wait for men to pursue us or tell us how they feel. So if you don't know what to say to a guy, just let him know how you feel (that you think he's hot). I mean, that's why you swiped right on him anyway.
3. "We Did It!!"
Counter your nerves with excitement, and make it seem like matching with you is a huge achievement and win for you both. Your message will leave him wondering, what exactly did you guys do? What are you going to do? Match? Go on a date? Fall in love? Have a million kids together?
You'll have to use the rest of the conversation to find out.
4. Send A GIF
When all else fails, send a GIF. If you truly are at a loss for words, then don't use words at all.
Use one of the suggested GIFs that Tinder preselects for you, or search for something specific that correlates to your match's profile. But be careful that you don't just get into a GIF exchange with your match. At some point, one of you is actually going to have to break the ice using words, because you can't build a relationship off of cat pics.
So when you're stuck on what to say, try one of these icebreakers out for size. And if you don't get a response, that probably wasn't the guy for you anyway. Rejection is just protection — that's what I always say.
Check out the "Best of Elite Daily" stream in the Bustle App for more stories just like this!