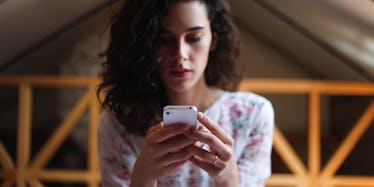 The Dating Apocalypse Is Over: 6 Reasons Why Tinder Has Failed
It's a no-brainer why Tinder achieved popularity and infamy so fast.
Tinder became the easiest way to meet hot singles in your area, and it was fun for a while.
Until, of course, it wasn't.
Eventually, we all realized an easy dating app is the same thing as a lazy dating app.
And the lazier we all become, the worse we are at dating.
Using Tinder requires virtually no effort, which is fitting, since virtually no effort is given on the part of any of the guys we're matched with.
In her recent Vanity Fair article, Nancy Jo Sales said it perfectly:
As romance gets swiped from the screen, some 20-somethings aren't liking what they see.
Because of Tinder, romance really was being "swiped" away.
I say "was" because Tinder is over.
We're all catching on to the fact that the swipe-culture normalized by Tinder has made us more shallow, desensitized, dehumanized, exploited and a hell of a lot lazier.
I'd rather meet someone who wants to share the same experiences as me than meet someone who swiped right because I look like a "cutie."
Here are six reasons why Tinder has become obsolete:
1. Because many of us are bored of casual relationships.
Yes, Tinder makes it incredibly easy to seek out a causal relationship or a companion for the night.
However, as I'm sure you've noticed all over the media, the hook-up culture has resulted in a backlash of frustrated Millennials, who want to mean more than that to other people.
On Tinder, we're not being asked things like "What are your passions?"
Instead, we're asked to take a picture wearing sexy lingerie and send it over.
Many of us just want to meet people who treat us like they want more than a casual hookup or a meaningless "situationship."
We crave a deeper connection, but finding one is becoming harder and harder the easier it becomes to find something casual and superficial (thanks to Tinder).
Casual hookups may be easy, but they're getting us nowhere fast.
2. Because it leaves us feeling devalued.
I was quoted in the recent Vanity Fair article about Tinder and the dawn of the dating apocalypse, when I said it's rare for a woman of our generation to meet a man who treats her like a priority, instead of just an option.
But why is it especially common to be treated like nothing more than an option in our generation?
It's because of dating apps like Tinder that encourage a superficial numbers game, in which we're matched with each other based on nothing more than our mutual respect for the other's "sexiness."
The path to instant gratification is lit up with arrows that point to one simple solution: download Tinder, start swiping, and you'll instantly have plenty of options to choose from.
What we soon realize, though, is Tinder dehumanizes us.
What about our personalities, our favorite date ideas, our goals, our careers and our hobbies?
The fact that even the app itself doesn't ask us for any of that information is pretty much the company implying those things don't matter.
Only looks matter.
Tinder welcomes anyone void of integrity to exploit it for all the wrong reasons, and they asked for the backlash they received by allowing all of us to judge each other, solely on our physical appearance.
The paradox of choice happens when we think we have infinite options to choose from, and we therefore become less satisfied with any one option.
We're constantly duped into believing someone better is around the corner. (A few swipes away, maybe?)
Tinder is one big paradox of choice, so it's no wonder why none of the users feel valued by anyone they're matched with.
What we all want, deep down, is people who like us for our personalities.
Looks fade, which is why it's what's underneath that's worth swiping right for.
The hot woman doesn't want to be liked because she's hot.
In fact, the hot woman doesn't want you to continually compliment her on her beauty; she wants you to point out things about her personality that you love.
That's how she'll feel valued.
3. Because there are better, smarter dating apps available now.
When it comes to dating apps that are similar to Tinder but better, Happn comes to mind first. Why?
Because although Happn is similar to Tinder in that it has an extremely large user base of singles, it at least humanizes us a bit.
They also don't use the swipe technology, which is perfect for those of us who have associated negativity with the swipe, thanks to Tinder.
The reason we feel less exploited on Happn is because you don't see as many blank profiles, and you can share your taste in music with your matches because they've partnered with Spotify.
Happn also feels more real than Tinder because you're matched with people you've crossed paths with.
Since you can see how many times you've crossed paths with a match, you feel connected to the person in some way.
It's likely that the person might work in your building or go to the same Starbucks as you every morning, and that's pretty cool.
Can Tinder do that? Nope.
4. Because women want to share experiences with men, not just their beds.
Women are disadvantaged on Tinder because the majority of male users have become accustomed to using the app to seek out casual sex rather than a real date.
The female users would rather share an experience with their matches or go on real dates, but instead of being invited out to dinner, they're invited to "come on over."
If the female users aren't happy, you've got a problem.
Any CEO of any dating app will agree.
Without getting the women on board, you're basically screwed.
Women want to share experiences with men, as a way of bonding.
SuperDate, a dating app that focuses on real-life experiences rather than looks, seems to have used Tinder as motivation of what not to do, which is great.
On SuperDate, instead of swiping right to a hot woman's face, you can join a SuperDate (think a seafood restaurant with a view, a beautiful hike or a wine tasting night), and you'll be matched with other app users who want to share that experience.
You'll feel a lot better knowing you're matched with people you share something in common with.
This app is able to achieve that without making users fill out a questionnaire or personality test upon sign-up.
In that sense, it's the best of both worlds.
You can even upload your own date idea, and others can "join" to show they're interested in experiencing your idea.
5. Because Tinder is starting to charge money.
It's common sense that the moment a popular dating app starts charging its users anything, the users will seek out a free option to use instead.
Tinder, you're about to be replaced.
Tinder is charging all of its users money to gain access to "premium features," and both men and women are being duped into paying monthly fee to use them.
Users were interested in the "passport" feature, which allows you to chat with singles in another country (so if you're going on vacation, you can meet people in advance).
But we couldn't gain access to this feature without pulling out our credit cards.
Tinder is also now charging users who are over 30 years old, which is pissing off a lot of people.
6. Because everyone's intentions are unclear on Tinder.
Since most of the time, the only info you have on your match is what he or she looks like, you're left wondering "Who is this person?" and "What does this person want?"
You could guess your match probably only wants something casual, but what if he or she is the rare relationship-type?
The problem with Tinder is you're left guessing, since you don't really know who you're talking to beyond what the person looks like.
Because everyone's intentions are unclear on Tinder, you're basically mind-f*cking yourself the whole time you use it.
It's no wonder why we're over it.