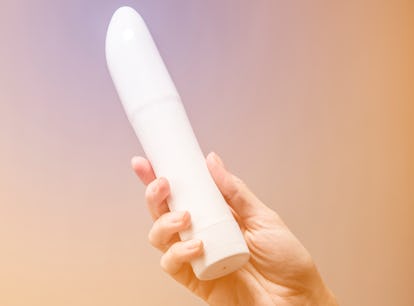 The 25 Best Sex Toys For Women Under $40 To Keep On Your Nightstand
PM Images/DigitalVision/Getty Images
Are you ready to grow your sex toy collection, but aren't sure where to start? If so, you're not alone. There are countless options out there to choose from, from vibrators and dildos to BDSM-inspired accessories and beyond. Plus, sex toy marketing can get pretty confusing. Although many toys are marketed specifically toward women, men, and couples, the truth is, sex toys have no gender. It's all about finding what works best for you and your pleasure.
That said, though, I do believe there's something unique about the importance of sex toys for women. After all, sexual health research has consistently shown that there is a gendered orgasm gap in which men tend to experience orgasm more frequently than women. The National Survey of Sexual Health and Behavior — aka a decade-long comprehensive study of human sexual behavior — has shown that women report "less satisfaction with sexual activity than men with less pleasure, less arousal, and fewer orgasms." Although the orgasm gap is becoming more widely recognized, it's still alarming and serves as a reminder that women deserve to O — whether it's with a partner or not.
According to a 2022 survey conducted by Statista and BedBible, approximately 82% of American women own at least one sex toy. Plus, The New York Times reports that sex toy sales have skyrocketed as a result of people enjoying more, ahem, *alone time* during the pandemic. If you're a woman, let this be a sign that it's time to take pleasure into your own hands (literally). Here are some of the best sex toys for women that are sure to give you the pleasure you deserve.
As a sex and relationships editor, I may be slightly biased, but there is absolutely no reason why women shouldn't experience pleasure whenever and however they want. If you're a woman who's ready to treat herself or you're shopping for a special someone, grab one of these stimulating sex toys and get ready to heat things up. Brands like Babeland and Adam and Eve have plenty of options to choose from, and while the above products are all relatively affordable and under $40, if you want to splurge, have at it. Here's to lots of Os for you and the women in your life — so that one day the pleasure gap can be a thing of the past.