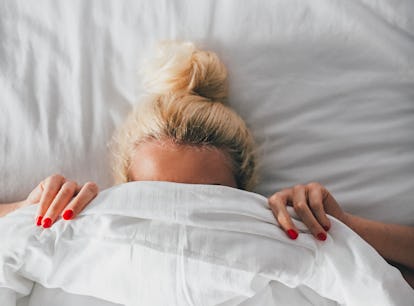 The Best Lubricants Under $25 To Keep In Your Bedside Drawer
Adding these to cart ASAP. 🔥
Cavan Images/Cavan/Getty Images
When it comes to sexytime, lube makes everything better! In fact, "use more lube" is the #1 piece of advice that sex educators give. Lube can reduce uncomfortable friction during everything from handjobs to penetrative sex, making sex more pleasurable and safe. Why safer? Too much friction can create micro-tears in delicate tissues, and those openings make it more likely that bacteria or viruses will be transmitted. Too much friction can also make condoms more likely to tear.
Unfortunately, lube carries a bit of stigma for some people; there's a common misconception that if you're "aroused enough," lube isn't necessary, and some partners consider it a blow to their ego to use lube, but that's simply not true. There's no shame in adding it to your routine. Even for people whose bodies naturally lubricate with arousal, more lube is usually better. And for some activities, such as anal sex, lube is an absolute must.
Not all lubes are created equally, so it's important to be selective when choosing one for yourself or your partner. There are several common ingredients found in lube that can cause irritation, like glycerin, which may cause yeast infections, and nonoxynol-9, a spermicide often found on pre-lubricated condoms. Other ingredients like petroleum, propylene glycol, parabens, chlorhexidine gluconate, and benzocaine are also important to watch out for because they can lead to imbalances, irritation, infections, and worse.
Pro tip: The more sensations a lube claims to cause — such as warming, cooling, tingling, or even tasting like dessert — the more likely it is to have ingredients that may rub you the wrong way.
If you don't own lube yet and you're looking for it on a whim, you should also avoid reaching for products you may have around the house that aren't intended to be sexual lubricants. Common items like Vaseline or baby oil are made of petroleum, which is on the no-go list above. Petroleum lingers on the skin, can contribute to infections, and also damages condoms. Another household item to leave in the kitchen is coconut oil. Like other oils, coconut oil will break down latex condoms, stain your sheets, and may contribute to yeast infections.
Personal taste (no pun intended) also comes into play when choosing a lubricant. You can find lubes that are vegan, cruelty-free, gluten-free, and even Kosher. Read on for a list of body-safe lubes that will help you maximize pleasure in the bedroom.
We at Elite Daily only include products that have been independently selected by our editors. We may receive a portion of sales if you purchase a product through a link in this article.
With all these options, there's truly a lube for every occasion. Whether you choose an all-purpose lube to be your new favorite or order a different lube for every mood, you'll discover the benefits of extra moisture in your playtime. No one wants to go down a dry slip-and-slide!