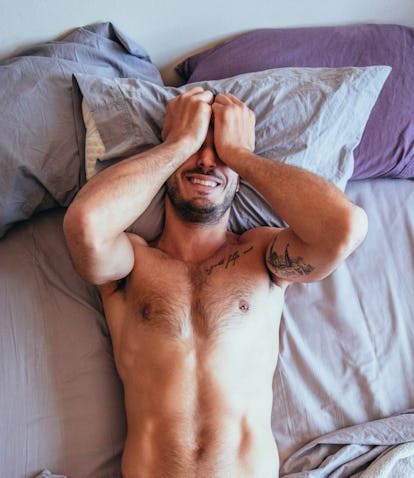 Here Are The 21 Best Sex Toys For Men Under $40
Jena Ardell/Moment/Getty Images
Shopping for sex toys can be overwhelming. There are countless options to choose from and not much guidance on what to get. Plus, sex toy categorization can be tricky. For marketing purposes, many toys are lumped into categories for men, women, and couples — but sex toys have no gender (and any toy can become a "couples" toy as soon as you use it with a partner). To help you on your pleasure-seeking journey, Elite Daily has rounded up some of the best sex toys for men.
As a sex educator, I regularly explain what to look for when shopping for sex toys. For starters, anything that's going to be on or in your body must be made of a body-safe material. Common safe materials for sex toys include silicone, glass, stainless steel, and some plastics. (You want to make sure toys don't include chemicals that can harm the body and that they're made of a non-porous material that can be easily cleaned and sanitized). There are some "flesh-like" materials that are body-safe, but they can be hard to distinguish from jelly toys that are packed with toxic chemicals, so always do your research!
When shopping for anal toys, you also need to consider the toy's shape. The rectum is surprisingly good at gobbling up toys, and it isn't a dead end — so a lost toy could mean a trip to the ER. To avoid any embarrassing outcomes, only use toys specifically designed for anal play, and consider whether the shape is right for your body. Not only should you look for a flared base, but it's important to evaluate the difference in diameter between the toy's stem and the widest part of the base. Not all flares are created equal, and especially for varsity anal players whose bodies know how to relax, a bigger base is likely needed.
Luckily, the sex toy market has expanded over the last decade and there are a lot more options for folks with penises these days, as well as toys specifically for trans men. Here are some of the best sex toys for cis men and trans men, whether you're looking for strokers, vibrators, anal toys, or kinky accessories.
We may receive a portion of sales if you purchase a product through a link in this article.
Adding a handful of tools and toys to your solo or partnered play is a great way to find pleasure and explore new fantasies. Be sure to keep your goodies in an easy-to-reach spot, like the nightstand or a box under the bed. Toys are more likely to be used if they're within arm's reach when the mood strikes. If cleaned after use and stored carefully, high-quality sex toys can last for years.