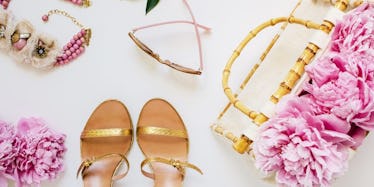 The 9 Best Spring Outfits For Every Type Of Spring Date, From Wine Tasting To Hiking
Spring time is finally upon us! This means we can cast away our ponchos and circle scarves (alas, how we loved them) and upgrade to wedge sandals and cropped denim jackets.
This is also the time of year where mating is in full swing, and men, women and wild animals alike are on the prowl for dining, dating and making out in the back of cars.
Spring is also a time of rebirth, which means experimenting with new looks and letting your drab, winter self die away. You're like a phoenix, and it's time to stretch those colorful, come-hither feathers!
Here are some of your best spring looks to rock on the most popular spring dates.
A flirty wine tasting date
Aim for something special AND comfortable.
Hair: loose, come-hither waves
Makeup: Play up your lashes and eyeliner, and keep your lips simple. You want to make sure you don't stain all those wine glasses!
Clothes: a statement top, statement jewelry and skinny jeans that are easy to cross your legs in while sitting on a barstool
Playful beer and wings night at a local pub
Your descriptor words here are casual and confidence. Wear something that you feel like you can get sauce and beer all over without ruining your night.
Hair: day-after wave (Pro-tip: Use lots of dry shampoo for undone volume.)
Makeup: Keep it casual, casual, casual. If you have fun glasses, rock those, too!
Clothes: A T-shirt dress and converse are a great way to stay flirty and comfortable AF.
A daytime BBQ at his place
Layer up! The weather can be finicky, and you'll want an outfit that can withstand a few changes in temperature.
Hair: Rock a sunhat or tuck your hair back with sunglasses.
Makeup: Use subtle bronzer to reflect those rays and chapstick with SPF in it!
Clothes: You can't go wrong with some cute cut-off shorts and a denim jacket. Rock a solid-colored tank top in an elegant fabric underneath in case you get a little warm.
A boozy brunch downtown
Repeat after me: LOOSE-FIT CLOTHING.
Hair: high top knot
Makeup: bright, youthful, fresh colors, like berry pinks and iridescent nudes
Clothes: A shift dress like this white one is perfect for feeling girly and feminine, and it still leaves room for that champagne bubble bloat.
An energized, scenic hike
Athletic doesn't have to mean unflattering!
Hair: high ponytail
Makeup: tinted sunscreen and sweat/waterproof mascara
Clothes: Athleisure is the quickest way to stay mobile and cute as hell while working up a sweat.
A spontaneous weekend getaway
Pick something unique you wouldn't normally wear in your day-to-day look that will make your friends jealous when they see you on Instagram.
Hair: air-dried waves
Makeup: Try a multi-use product to save space in your bag, like a pink balm that can add quick color to your cheeks, lips and eyelids.
Clothes: Have fun rocking some big, bold prints and pairing them with an understated top to make a statement while staying loose.
A sultry night dancing in the club
Think short, tight and black, baby.
Hair: va-va-voom volume
Makeup: a smoky eye, burgundy or neon pink pout and LOTS of contouring
Clothes: Just a small touch of leather keeps you sultry and sexy without overheating you as the weather warms up.
Hilarious karaoke or trivia night
Goofy activities call for playful attire!
Hair: messy bun
Makeup: something a little whacky or unexpected, like a green eyeliner or purple lip
Clothes: A fresh jumpsuit in a bright pattern keeps you comfortable AND playful.
Classic iced coffee date
If it isn't broken, don't fix it.
Hair: Try switching up your part for a subtle change, like a stick-straight center part or a deep, deep side part.
Makeup: A nice neutral pallet will keep you looking bright-eyed and caffeinated.
Clothes: You can't go wrong with jeans and a crisp, white shirt!