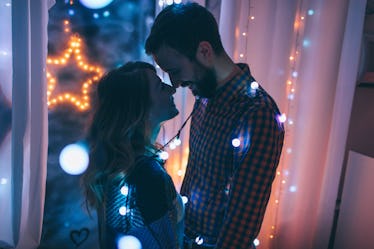 The Relationship Resolution You Should Make For 2022, Based On Your Sign
*This* is gonna be your year.
AleksandarNakic/E+/Getty Images
The relationship advice that's hardest to hear is oftentimes the advice you need the most. Even if you think your relationship is picture-perfect, there's likely room for improvement, and there's no better time to make a change than in the new year. Don't get me wrong — you should never feel pressured to change for an SO. However, a healthy relationship often requires a certain amount of self-awareness and compromise. Based on your zodiac sign, the relationship resolution you should make in 2022 won't just benefit your partner — it will likely improve your relationship satisfaction as well.
The start of a new year gives you the opportunity to hit pause on your life and take stock of all the things that are working and the things that aren't. It's a time for reflection, celebration, and, sometimes, hard truths.
Spending too much money and too much time watching Netflix aren't the only bad habits you may want to ditch next year. Relationship bad habits are just as harmful and just as hard to break. Some relationship resolutions are helpful for anyone to make, but some commitments best apply to people born under a certain zodiac sign. Maybe your relationship could benefit from you speaking your mind more often. Maybe it would be helpful if you spent less time speaking and more time listening. If you're looking to reach your full relationship potential, check out the New Year's resolution that may benefit your love life in 2022 — and beyond!
Here's to a thriving relationship in 2022!
This article was originally published on