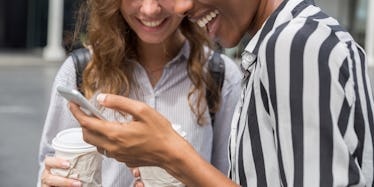 I Let My BFF Make My Dating Profile And I Realized I Would've Rather Dated Her
My best friend, Anna, is maybe the closest person to me in the entire world. She's supported me through all kinds of compromising positions, and has even put me in a few herself.
The last time I was trying to heal from being heartbroken, her devotion to me meant she took my dating life into her own hands, setting out on a mission to find me true love that wouldn't hurt.
First, she accompanied me on a tear-sodden rampage around town, which included us temporarily dying our hair pink and leaving a note that said "you left your paw prints on my heart" on my ex-lover's porch.
She then dutifully drank coffee when I proclaimed that I wanted to go out dancing, and then lay awake all night highly caffeinated after I fell into a sad sleep five minutes later in her bed. That's just the kind of friend she is!
A week or two — and many depressed naps later — Anna decided she would help me with my recovery by taking charge of my love life. Or I may have forced her into it from being too emotionally needy.
However it happened, it doesn't matter. What matters is that Anna set up a Tinder account for me.
And the process of having my best friend run my dating account made me realize that I deserved more than what I had been accepting, and that love shouldn't be as scary as people make it out to be.
At the time of our dating experiment, Anna had just entered a monogamous relationship. She had spent the year or so before that playing the field. With the skills she had gained from that experience, she fired up her old Tinder account, and simply replaced the photos of her with the ones she thought represented the realest me.
To clarify our arrangement, she also wrote a detailed bio for me, explaining our situation in the most straightforward way that she could.
Now, Anna is a pretty blunt person. She doesn't really stand on ceremony. So when crafting my bio, she stated exactly what we (well, her) were looking for:
The girl in this picture is not me, she is my best friend Caitlyn. Caitlyn is looking to be deeply in love. She is a writer and is extremely emotionally available. Some things Caitlyn enjoys include: eating, naps, wigs. She's also working on a novel. Inquire within for more details.
Whenever Anna had downtime at work, she would swipe for me. While I'm overly selective on dating sites, Anna doesn't have the same reservations. She pretty much swiped right on anybody who she thought might be good for me, meaning that she selected anyone who looked like they had a job and weren't covered in stick-and-poke tattoos.
Basically, she was open to anyone who didn't seem like the people I usually dated.
The thing about Tinder, though, is that people don't really pay attention to long, detailed bios about people. Most of the people she matched with thought that they were talking to the one they would be going on the date with, and seemed to be a little confused by our arrangement.
They were also a bit intimidated by somebody demanding to be deeply in love. Go figure!
Most of the conversations went like this:
Anna: Hi, can you tell me a little bit about yourself? Him: Sure. I'm in school to be a pharmacist, and I enjoy salsa dancing. Anna: You sound perfect. Him: Thanks, you seem pretty cute yourself ;) Anna: Oh, this isn't for me. I'm running this for my best friend Caitlyn. She's looking to be deeply in love. When are you available to meet her on a date? Him: *Unmatch*
Anna was so intimidating of a gatekeeper that there were only two people in the entire greater Pittsburgh area who were willing to go on a date with me. Two very different men, one rose — me! (OK, maybe getting over my heartbreak had also involved watching a lot of The Bachelorette.)
Anyway, one of my matches was a former wrestler, and the other was a pharmacy student. Through Anna, the wrestler invited me to get dinner with him. She also wheedled him into paying for me to eat at a fancy restaurant.
"Look," she said when she texted me, "I think this guy would be really good for you. He is so strong!"
Anna herself has a somewhat ungodly sturdiness. The first few years I knew her, she actually drove a car that didn't have any power steering, using her full body weight to navigate the vehicle through Pittsburgh's winding streets.
When I suggested she just might think that the wrestler was good for me because he reminded her of, well, her, she denied it.
"Just please agree to meet him," she said. "He is open to love, like you."
I agreed to dessert, but in reality, I was still nursing a shattered heart. On the day of the date, though, he didn't respond to Anna's message confirming the time and place to meet. I guess he wasn't into arranged partnerships, or maybe he was freaked out by love after all.
The second match, the pharmacy student, agreed to meet me for tea. On the day of our date, Anna texted me to ask me what I was wearing.
"A grey t-shirt and zits," I responded, and sent a picture of my red, blotchy chin.
"You better not bail on him," she replied. "He's nice."
Indeed, Tushar did seem very nice. He had come to study in the United States from India, had excellent manners, and didn't seem to think it was weird at all to be looking for love on someone else's behalf. He even texted Anna to have her let me know that his Uber was running a bit late.
When I got the message from Anna, I was already in the tea shop and thinking of ghosting this guy. I had never really dated casually before, and even though I wanted a boyfriend, I was hung up on the thought of the person who had just dumped me. I wanted him to be my boyfriend, even if he didn't want me.
"Don't you dare leave," she texted me, telepathically sensing my hesitation.
When I admitted that I was thinking about it, she told me she was on her way to prevent me from leaving. A few minutes later, when Tushar was sitting across the table from me, I received a picture of Anna in a big, long wig, driving to the tea shop.
I smothered a laugh that made Tushar look at me a bit quizzically. He had just been telling me about his trip traveling all around Southeast Asia. He wanted to know whether I had been to California.
"Yes," I said, "A few years ago. I'd go again."
"I've always wanted to see Colorado," he hinted, sipping his tea. "Maybe I will find someone who will go with me."
My stomach dropped. "Hopefully!" I said brightly, deflecting.
A few minutes later, when big, blonde-wigged Anna strode into the tea shop and directly past me, refusing to meet my eyes, it became more of a struggle to smother a laugh. She sat at the back of the place where she took this stealthy photograph of me and my date, as proof to remind me I actually could meet someone new:
"I have to go," I said to Tushar a few minutes after that, because I was trying not to laugh so hard that I was in pain. "I have... homework."
I shook his hand, walked out of the tea shop, and circled around the back to get Anna. We went and got pizza, which was better anyway. I really only wanted to hang out with her.
After my date with Tushar, I told Anna that while I did want to be in love. I probably needed some time to myself first. Plus, I had realized that Anna was kind of the best love I had ever known. Nobody would be as sturdy a prospect for me as she was.
Even though it would have been awesome if Anna and I had turned out to be romantic soul mates, she was actually better than a boyfriend to me. Plus, she had her own relationship.
For a little while, though, she actually did continue to receive some Tinder messages on my behalf. The most persistent person was one late match named Michael, who seemed really interested in meeting me. I was firm, though, and she had accepted my decision.
Even though she conveyed my regrets, Michael messaged her every few days to see whether I had changed my mind. Then, he started to talk to her just because he was lonely.
Apparently, he really opened up to her, emotionally. She even invited him to join a book club she was planning, to get men to talk about their feelings and learn how to be vulnerable with one another.
Though the book club never really got off the ground, I think Anna has a future as a dating coach for straight men. As for me? I remembered that I could take Tinder into my own hands.
While I haven't found what I'm looking for, having my best friend make my dating profile made me realize that I could be my authentic self.
I can say that Anna's experiment was successful. Even though I haven't found love, I've been able to treat myself better. That means I stopped dating men with stick-and-pokes and even started seeing other women.
While I'm no longer actively looking for love, I can't say I wouldn't be happy to stumble across it. I'll know it's real when I meet someone who loves me like Anna does.
And after my best friend made my dating profile, I realized I deserve it.