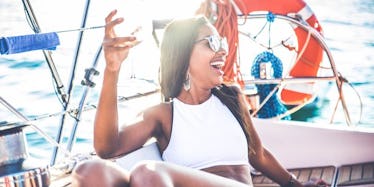 7 Ways Being Single In Your 20s Prepares You For Your 'Forever' Person
Shutterstock
It's no secret finding your "forever" person is a pretty big deal. It truly is the most important choice and commitment the majority of us will make in our lifetime.
The process of finding your soulmate and building a strong life together starts way before you even meet one another.
Having a solid foundation upon which to build a life with someone is key. Everyone knows when you're building something, if the ground floor isn't solid, everything you add to it can easily fall apart… therefore ending in complete and utter disaster.
You don't want that to happen, which is why you have to know yourself better than anyone else before you get into a committed relationship.
Being single and having "me time" is the ultimate way to get your ducks in a row.
Here's why being a single gal and living it up in your 20s is the best gift you can give both yourself and your future soulmate:
1. You establish a complete, confident sense of self.
Your 20s is an incredible chapter of your life. It's when you figure out who you actually are, and who you want to be as an adult.
If you're not completely content with something in your life, make moves and change it. Otherwise, you'll flounder like a fish out of water.
It's all part of growing up and growing into the person you want to be: mentally, physically and emotionally.
2. You give yourself time to swim in the dating pool.
What's the rush to settle down? Throughout their 20s, most gals will fall in love, have their hearts broken, break up and break a heart or two (or 10) along the way.
You learn how to be a great partner in the process, and you also identify the qualities you desire in a "forever" person for when the time comes to meet him.
3. You have time to accomplish most – if not all – of the things on your bucket list.
There's so much to do in life, and so little time when we're talking about embracing our dreams.
Sure, you can do it all and more, together with your Prince Charming. But traveling with friends and traveling with a partner are two entirely different experiences.
We see things differently when we're single. While you're exploring a new city with your single gal squad, you'll definitely be checking out different sites than you would be with your SO.
4. You can focus on your career wholeheartedly.
When you have nothing to worry about but yourself, it's so much easier to put your heart and soul into your career.
You can grow in more ways than one in your job, and you can put in all of the time and effort needed to make that climb up the ladder like the #GirlBoss you are.
5. You can get a good grasp on your finances.
The only way to learn how to manage money is through experience.
You can't spend what you don't have, and you won't have it once you spend it.
6. You enjoy your time being independent.
When you do decide to tie the knot with Mr. Right, your life will be forever changed.
It will obviously be amazing, but this is the last stage you can simply worry about you, and you alone.
Once you're emotionally involved, things are not just about you anymore.
7. You're able to spend as much time with your family and friends as possible.
You don't know where you'll be living when you get married. You may be across the country, or maybe even in a different country from your loved ones. Don't take any second with them for granted.
When you do meet the guy who's your entire world, it's important to embrace that next level of life with him... no regrets.
You should never look back on your single time by dwelling on the things you wish you had done. Reminisce on that time period as an incredible chapter of your life because it prepared you for the next best thing.