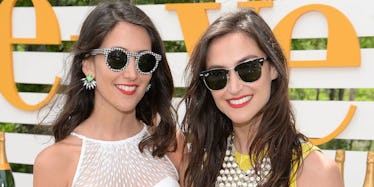 6 Girl Bosses Who Turned Their Startups Into Multi-Million Dollar Successes
Getty Images
Today, more and more young women are confidently eschewing traditional career paths in order to forge their own careers as entrepreneurs. Millennial women are starting their own businesses and truly making a mark on the world. A few women, in particular, have managed to take their businesses to truly elite levels.
Take a look at these seven young women who have turned their business ideas into multi-million dollar companies:
1. Lauren Bush, FEED
Lauren Bush launched FEED in 2007, with her business partner, Ellen Gustafson. The company is a not-for-profit organization that sells reusable bags that are crafted to look like feed bags. Half the proceeds of the sales of these bags go toward feeding the hungry.
Recently, they've partnered with UN World Food Program in order to further their efforts. They have now expanded their product line to include t-shirts and other items that can be purchased in their online store.
2. Prerna Gupta, Khush
Prerna Gupta began her career in the corporate world, but she soon realized it was not a good fit for her. Her first solo venture was in launching a social media website.
While the site did -- at one time -- have 2 million users, it never quite gained the traction it needed, and was ultimately shuttered. However, the experience gave her the courage and experience to go into her next venture: the app, Khush. This music app has continually been in the top 20 paid apps in the iTunes store.
3. Danielle And Jodi Snyder, Dannijo
Danielle and Jodi Snyder are two sisters who have always had a passion for jewelry and fashion. As teenagers, the sisters both become involved with designing jewelry. In high school, they even opened a store in Jacksonville, FL to sell their wares.
After they left for college, they closed the store. However, their passions remained strong. The sisters later launched Dannijo in NYC. Since the company's launch in 2008, celebrities such as Beyoncé have been seen wearing their jewelry.
Today, the company earns more than $1 million per year, and the sisters' jewelry is often featured in fashion magazines.
4. Alexa von Tobel, LearnVest
Alexa von Tobel started LearnVest after leaving Harvard Business School in 2009. LearnVest is a fintech company based in NYC, and aimed at making financial planning affordable and less of a pain. Wise financial management is clearly in Alexa von Tobel's wheelhouse, as she was able to raise nearly $75 million in financing for LearnVest, before being acquired by Northwestern Mutual in May 2015. It was one of the largest fintech acquisitions of the decade.
She also secured a former Huffington Post CEO as an advisor. So far, LearnVest investors have ponied up $5.5 million in funding.
5. Sarah Prevette, Sprouter
When Sarah Prevette entered the business world, she was frustrated that she couldn't get the answers to the questions she had about business. So, she began an online community to connect entrepreneurs to one another in order for them to socialize, share experiences and exchange advice.
Sprouter now has well over 10,000 users, and it looks like the website will continue to grow in the future. It is certainly clear that her investors have faith in her because all of her funding has been in the form of angel investments.
6. Catherine Cook, myYearbook
Today, myYearbook.com is considered to be the most popular teen-oriented website in existence. It is also among the top 30 websites overall.
Catherine worked with her brother, David, to form the website. It has earned nearly $25 million in revenue, and investors have paid $17 million more to ensure that the company continues to grow and thrive.