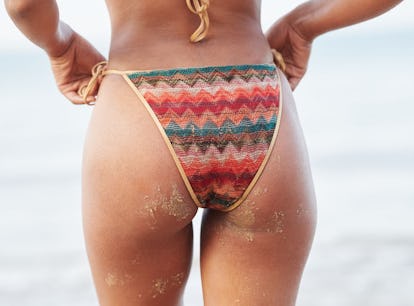 Here's What It's Really Like To Try Back-Door Sex For The First Time
Anal sex is a bit like a roller-coaster: exciting for some, nerve-wracking for others, and an experience with so much fun potential. Maybe anal sex is your main or only option, because of your anatomy or because of vaginal discomfort. Anal can also be a kinky alternative to vaginal, oral, and manual sex, or a kinky way to give or receive double the pleasure.
If the idea of back-door fun gets you excited but you're feeling nervous about trying anal sex for the first time, Luke Thao, a Licensed Marriage and Family Therapist Associate (LMFTA) and member of the PNW Sex Therapy Collective based in Seattle, says you're not alone. He previously told Elite Daily that, when his clients are introducing any new form of play into the bedroom — whether it's anal or toys or anything else — he emphasizes "the process of learning to be comfortable with your fantasies. So many of us have fantasies but it's in the interpretation or valuation of our fantasies that a lot of people get caught up. So, having that space for yourself or with a group of friends or with a therapist to be able to explore that fantasy space is where I'd start. And then take it into the partnered space."
Even if you don't feel completely ready to take the anal penetration plunge, there are several other forms of anal play that you can engage in, including rimming (using a tongue on the anus), fingering, pegging a partner, and using a vibrator. If you do graduate to anal sex, there might be some physical discomfort in the beginning, since your muscles are trying something new. That's why it's important to take it easy, be patient, and ensure that the receiving partner lubes up during anal sex. Sexologist and reproductive justice activist Michelle Hope previously told Elite Daily that one of the most crucial aspects of anal sex is that the anus is not self-lubricating, "and therefore has a higher risk of tissue tears. Lube is your best friend when looking to explore the back door!"
As for emotional discomfort? There really shouldn't be any. Sexual consent is always and absolutely necessary — no ifs, ands, or buts about it. And when introducing a new act — especially something as physically intense as anal — it's doubly important to get an added layer of consent, even if both partners previously consented to other sex acts beforehand.
Another aspect to consider is safety during anal sex. Use a condom to prevent the passing of STDs. And if you're switching from anal sex to vaginal sex — in that order — a new condom is necessary. Once you've got the time, lube, condoms, and a patient, consenting partner, you'll be good to go.
The following first-time anal stories will give you a glimpse of what your first time might be like, physically and emotionally. Here are 10 women and non-binary people on their first time having anal sex: the convos they had leading up to it, how it felt, and whether or not they'd do it again.
Experts:
Luke Thao, MA, LMFTA (Licensed Marriage and Family Therapist Associate)
Michelle Hope, sexologist and reproductive justice activist
This article was originally published on