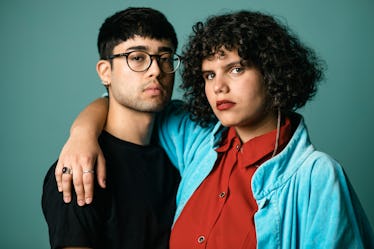 4 Red Flags You Shouldn't Share Money With Your Partner Just Yet
Relationships are full of meaningful milestones, from the first kiss, to the first time you say "I love you," to the first time you pee with the door open. (Admittedly, some are more meaningful than others.) Another big milestone comes when you're ready to combine your finances. Money is no joke, and aligning your budget and expenses with your partner is something that should be considered thoughtfully. Because even though your partner might mean well, keeping an eye out for the red flags you shouldn't share money with your partner could very well save your bank account and your credit score.
Sharing money with your significant other is more than just splitting the bill when you eat out. Joining your finances together is a big step, and as such, it means that you see a future with your partner far beyond what you want to do that weekend. "As a couple, sharing money comes long after sharing a toothbrush," online dating expert Julie Spira previously told Elite Daily. "It's really a big deal, because it shows you're on the path to a deeper commitment, such as sharing the rest of your lives together."
And while the idea of sharing a future can be exciting, it should also be entered into carefully. Everyone has a financial history, and in order to keep yours in check, make sure your partner's monetary goals and spending habits are in line with yours. Here's what to consider a red flag.