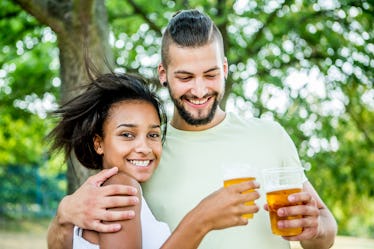 14 B-Day Date Ideas Your Earth Sign Partner Will Love
Coolpicture/Moment/Getty Images
As a partner to a Capricorn, Taurus, or Virgo, you know there's more to earth signs than the "cold" or "reserved" stereotype they so unfairly get. They can be analytical, sure, but they're also playful and mischievous, and their company is a treat. If you're looking for birthday date ideas for earth signs, you've got plenty of fun options to celebrate your partner's special day.
When planning your earth sign partner's birthday celebration, keep in mind they crave stability, predictability, and all the secure feelings that come with being grounded. They also love learning about their world and indulging in nature. TL;DR: Virgo, Capricorn, and Taurus partners are big nerds who love fresh air and luxury. With this in mind, check out these ideas when planning your earth sign partner's birthday date.
Plan a PowerPoint night for two where you both can wax poetic about silly topics you're passionate about.
Try out the latest TikTok recipe making the rounds on the internet. Baked feta pasta anyone?
Take a hike on a fresh trail.
Hit up your favorite hands-on science museum.
Host your own paint-and-sip. It's the perfect balance of getting busy and chilling TF out.
Plan a board game picnic and let your partner unleash their inner Beth Harmon.
Get some arts and crafts supplies and have at it. That can include scrapbooking materials for Instagram-worthy collages, or clay for sculptures or jewelry.
Find some K-12 science experiments and try them out together. The hypothesis? Your earth sign babe is gonna love it.
Recreate a sweet memory in your relationship, like your first selfie together or your favorite vacation pics.
Book a wine tasting for two on your deck or terrace.
Make a bougie birthday piñata from scratch and lovingly beat it to a pulp.
Go on a factory tour — think Hersheypark, a Guinness brewery tour, or World of Coca-Cola. Earth signs love to know how the world works, and that includes food science.
Gift your partner a huge LEGO set and build the model with them. You can give them a fandom-themed set (think Harry Potter or The Mandalorian) or one of LEGO's architecture sets geared toward adults.
Plan a bakery crawl, taco crawl, sushi crawl or any other kind of crawl. Gift your partner a fun-sized notebook and festive pen so they can take notes on each stop. Or wow them with your spreadsheet skills and share them on the doc.
No matter what idea you choose to ring in your partner's birthday with, all of the above ideas are fool-proof. And honestly, who says you have to choose? Maybe you can mix and match different ideas to celebrate them all week or weekend long.