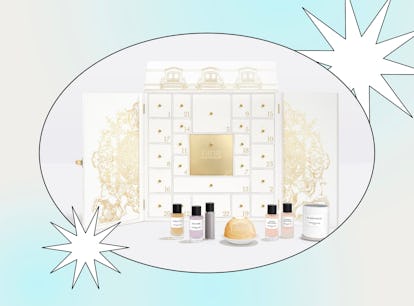 Is Dior's $4,200 Advent Calendar Worth It? Here's The Girl Math
The TikTok-viral gift set is even more expensive than last year.
We may receive a portion of sales if you purchase a product through a link in this article.
You know the countdown to the holiday season has officially begun once luxury brands start releasing their annual Advent calendars. Dior's Advent calendar always finds its way on the FYP year after year, thanks to a range of makeup, skin care, and fragrance products for you to open each day of December until Christmas. However, it's not always the products inside the calendar that have TikTokers talking — it's the price tag. The 2023 Dior Advent calendars are on sale starting at $160 and going up to $4,200 for the limited-edition Trunk of Dreams.
It would take a lot of girl math to justify spending over $4,000 on an Advent calendar. The value of the Trunk of Dreams Holiday 2023 Advent Calendar also doesn't add up with the products inside. While you do get full sized versions of the Dior Prestige La Micro-Huile de Rose Advanced Serum ($325), Dior Prestige Le Micro-Sérum de Rose Yeux Advanced ($280), nail polishes ($30 each), and lipsticks ($45 each), a lot of the calendar is just candles.
There are four mini candles overall, and one day is just candle accessories like a lid, base, and snuffer. When you're hoping for Dior beauty products, a bunch of small candles can be a letdown. And technically, you get more than 24 products, but in total, the $4,200 Advent calendar only has a $2,710 value.
That means you're spending $1,490 on a wooden box made to look like the 30 Avenue Montaigne Dior boutique in France. It's probably not worth it in real math and girl math, but there is a slightly cheaper — if you can say that — $750 version with 24 miniature or travel sized Dior products inside, along with a discovery gift set that's just $160.
The $750 Dior 2023 Advent Calendar Has $684 Worth Of Products
The more popular Dior calendar is the Le 30 Montaigne Holiday 2023 Advent Calendar that retails for $750, and TikToker @angelagiakas has already shown the FYP what's inside with an ASMR video. While she doesn't reveal how she feels about the Advent calendar, aside from it being "beautiful," other TikTokers were quick to comment on its bougie price tag.
"The price is a joke right…. RIGHT??" one user commented, while others pointed out that most of the products were sample sizes or just mini candles. Many even noticed that Dior's popular lip oil was missing from their Advent calendars: "Waiting for dior lip oil…"
The $750 Advent calendar also only comes with sample sized products that aren't even available for purchase. Out of the 24 days, nine of those are mini perfumes and four are just small candles. Like the $4,200 calendar, the serum is the most expensive product for around $165 along with the Dior Prestige La Crème ($145). However, the cream is less than a third of the refill size, so it's not a lot of product to last you.
With three mini lipsticks, a small mascara, and two sample nail polishes, this is a great set to get if you'd like to try out some Dior beauty products to see which full sized versions to splurge on. It does just feel a bit lackluster, especially when one day is just a Christmas ornament. As one TikToker said, "I LOST IT AT THE STAR."
The Christmas decoration is exclusive to the Advent calendar, so that may be something cop-worthy for Dior fans. However, the overall products in the $750 Advent calendar are only worth about $684. One upside is that's a much better deal than the larger Dior calendar. Also, if you think the box itself and golden ornament are worth about $66, then you're getting what you paid for with this box.
There is a smaller Discovery Set calendar for just $160, which only comes with four products — Miss Dior perfume ($11), J'adore perfume ($17), Prestige La Micro-Huile de Rose serum ($159), and Rouge Dior lipstick ($19). However, the serum alone makes this calendar worth it, and the grand total number of product is about $206. According to TikTok's girl math, you'll be making money with this Dior Advent Calendar.
There Are Other Beauty Advent Calendars That Are Worth The Splurge This Year
Two out of the three Dior Advent Calendars may not be worth it if you're looking for a great deal, but there are plenty of other beauty and skin care sets to consider instead. The Bloomingdale's exclusive 25-Day Beauty Advent Calendar is just $300 and is supposed to have $800 worth of products, including SK-II Facial Treatment Essence, Charlotte Tilbury Matte Revolution, and YSL Beauty Lash Clash Extreme Volume Mascara.
For just skin care, the Elemis 2023 First Class Skincare Advent Calendar is $260 with $749 worth of products. You even get a full size of their Pro-Collagen Marine Cream ($138) along with travel-sized versions of their Dynamic Resurfacing Facial Wash, Frangipani Monoi Shower Cream, and Pro-Collagen Renewal Serum.
A more beauty-focused calendar is MAC's $220 holiday Advent calendar that comes with $543 worth of products. Plus, TikToker @courtneyycahoon was shocked to find that almost all of the products were full sized. The only disappointing find was a compact mirror.
Anyone who loves getting samples from Sephora will also love their 2023 Beauty Must Haves Advent Calendar, which is just $99 and has a $342 value. It comes with mini versions of Rare Beauty's mascara, Glow Recipe Blur Drops, and the Paula's Choice Skin Perfecting 2% BHA Liquid Exfoliant. However, there is a comically tiny beauty blender that TikTokers can't seem to get over.
Unless you know you're a fan of a certain brand, like Dior, these sample size beauty calendars are totally worth trying out. As one TikToker pointed out under the Sephora unboxing TikTok, having mini versions can help you determine what you like before committing to a full-sized product. For adventurous beauty lovers in search of the perfect products, other beauty Advent calendars to try include REVOLVE's 2023 calendar, Walmart's Best of Beauty calendar, and e.l.f.'s $95 2023 advent calendar.
2023 Beauty Advent Calendars That Are Girl Math Approved