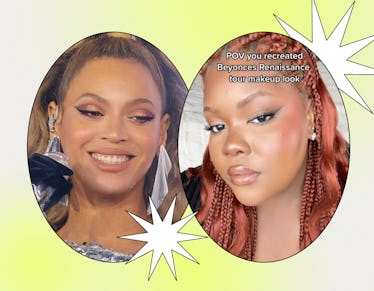 These Beyoncé Renaissance Tour Makeup Ideas Are PURE/HONEY
The Bey Hive is going all out on TikTok.
Welcome to the summer renaissance. Much like Taylor Swift's Eras Tour, Beyoncé's series of concerts has quickly become one of the biggest fashion events of the year. The Bey Hive is giving as much attention to detail to their 'fits as Bey does herself in each of her many outfits throughout her shows. Some are choosing to DIY their costumes, recreating the iconic album cover with disco-ball-covered hats; others are using past red carpet and performance attire for inspo. But if you thought the lewks stopped at the fashion, you'd be forgetting another very important factor: the glam. TikTok is full of Renaissance Tour makeup ideas and tutorials that would elevate any themed ensemble. So, once you nail down your memorable 'fit, it's time to get your beauty on.
While you could choose to let your disco cowgirl clothes and accessories, alien superstar garb, or even your hair speak for itself, for Beyoncé, there's no better time to show up and show out with your beat; it's not every day you're in the presence of a queen. So, whether you're one of the lucky ones who scored tickets or plan to continue live-streaming it via TikTok and Twitter, these six Renaissance-inspired beauty looks would totally get Bey's seal of approval.
Bet You You'll See Stars
No doubt you'll be seeing stars with this dreamy, silvery look. TikToker @shaniyaodulawa shows how to do this simple eye look centered around silver stars on the inner corner and a light, glittery lid. This would tie together perfectly with any Renaissance-inspired 'fit, especially the ever-so-popular disco cowgirl hats.
A Nod To The Bey Hive
In tribute to the Mugler bee outfit Bey wears on tour, some fans are channeling their inner Queen Bey with an eye look that'll have everyone buzzing. TikTok beauty creator @justyngee posted this eye-catching winged shadow look with a split black and yellow lid and a silver pop on the inner corner and lower lash line. This glam would be the ideal companion to any bee-inspired looks, including dupes of Beyoncé's own tour 'fit.
Colorful Eyeliner Using A TikTok-Viral Hack
TikTok user @cutcreaser helped to popularize this 3D eyeliner using hot glue. (Don't worry, it won't burn you!) The technique works by creating lines and shapes with hot glue on a metal palette, then, after letting them cool, design them to your liking. You can use nail chrome powder or eyeshadow to create your ideal color palette, which works best with a sponge applicator (think of the ones that used to come in drugstore eyeshadows). This user created a colorful Renaissance Tour-inspired look with an ombre effect and a light purple wash on the lids.
A Beyoncé-Approved Glam
Beyoncé's Renaissance Tour makeup artist, Rokael Lizama, posted a *bey*-utiful closeup of the singer's makeup, and the fans are *living* for it. The soft glam eyes are focused on the double-winged eyeliner look separated by a neutral shade for ultimate flirty vibes. Users like @taylorcaldwell are showing their renditions of this stunning eye look. If it's good enough for Beyoncé, it's good enough for everyone else.
Nostalgia-Filled Colorful Mascaras
Renaissance leans so heavily into nostalgic references, from the album's aesthetics to its sounds, so let your makeup take the same route. Just as the album nodded to 1980s dance music, so too will your colorful eyeliner and mascara that dominated the '80s. This user, @zazaawrld, leaned into the blue look, but so many other shades would work well, including purple or pink.
A Classic, Album-Inspired Look
When in doubt, a classic silver smoky eye that nods to the Renaissance album cover will never fail. TikToker @noelleplay decided to amp up this Renaissance look with some small face gems, but you could also go the classic route. The best thing about an eyeshadow look like this is how versatile it is: You could wear a glitzy silver highlighter, a bold red lip, or choose to keep things neutral and understated. There's no wrong answer.