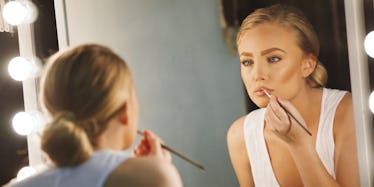 270,000 Women Love This Lipstick That's Perfect For Getting A Rose Gold Look
Lipstick and love have a lot in common.
Finding the perfect lipstick in sea of mediocre makeup products can, at times, feel harder than finding Prince Charming in a world full of fuckboys.
But once you finally come across "the one," you're struck with a classic case of love at first sight.
Suddenly, the stars align, and you realize all of the disappointing prospects you've wasted your time with over the years have led you to this very moment. And finally, it all seems worth it.
Yep, there are no words to describe the maddening bliss that fills your soul when you finally lock lips with your one true love lipstick.
I mean, seriously, screw Prince Charming. Every modern-day princess knows all you need to live happily ever after is a lip shade that's enchanting AF.
If you've been hopelessly searching for your lipstick in shining armor...
...you don't have to wait around for your fairy godmother to wave her magic lipgloss wand and "bippity boppity poof" a beauty product onto your pout.
We just came across a lipstick that will make all of your dreams come true.
I repeat, this is not a pigment of your imagination.
It's a liquid lipstick from Anastasia Beverly Hills called "Pure Hollywood."
This beauty product has already racked up over 270,000 "loves" on Sephora's website...
...and it's not hard to see why women are more drawn to this thing than a cursed spinning wheel.
This spellbinding shade features a gorgeous mauve color, serving as the perfect nude lip for any occasion.
Plus, the pretty pale hue looks amazing on practically every complexion in the kingdom.
Seriously, this nude shade is the fairest of them all.
If that's not convincing enough, we've also seen a lot of beauty bloggers using this color to achieve the perfect rose gold lips by applying a coat of this coveted color beneath a gilded gloss.
This lipstick is in pretty high demand right now.
So unfortunately, getting your hands on a tube might be harder than stuffing your foot in Cinderella's glass slipper.
But trust me, it will be worth the effort because this lipstick does not disappoint.