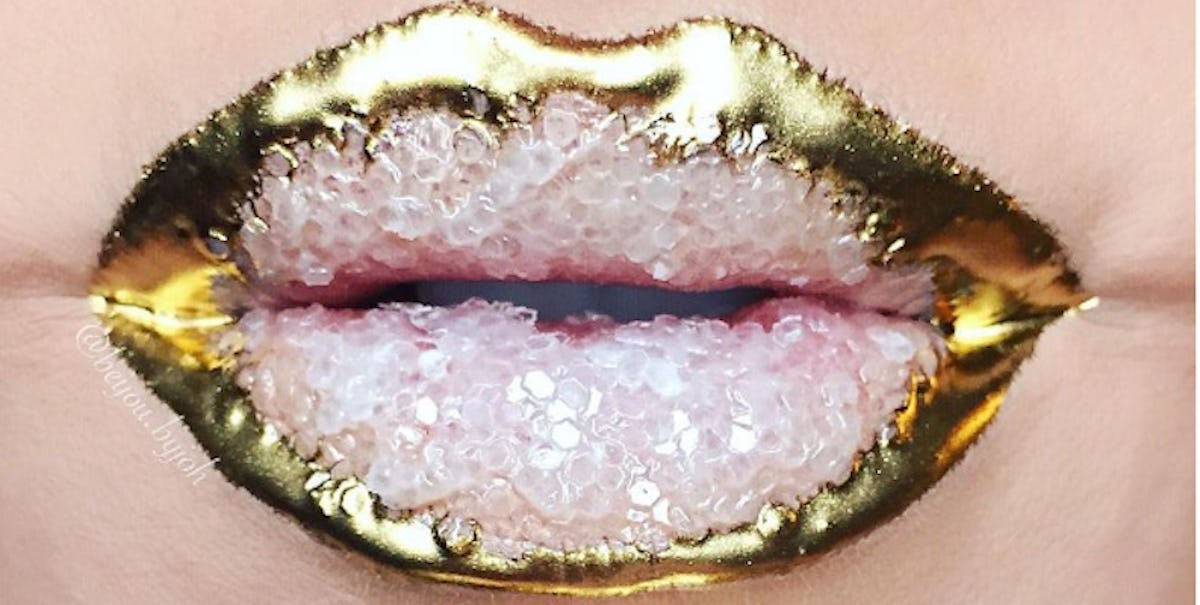 Crystal Lips Are The New Beauty Trend To Make You Look Like A Stone-Cold Fox
Beyou.byjoh
Not too long ago, we introduced to you the insane geode wedding cake craze.
You know, those crystal-encrusted confections that basically put Mariah Carey's 35-carat engagement ring to shame?
Well, if you thought those bougie wedding cakes were pretty impressive, you'll be glad to know that sparkly stones aren't just for decorating desserts these days.
We just came across a new way to incorporate geodes into your everyday look that rocks. Literally.
Crystal lipstick is the shiny new makeup trend taking Instagram by storm, and lots of women are recreating this ravishing, stone-inspired look right on their lips.
If you're looking to add a little bling to your fall beauty routine...
... you'll be glad to know that Crystal Lips are having a serious moment.
Lately, we've seen lots of Insta-famous beauty bloggers ditch the classic red lipstick for a variety of semi-precious pouts.
You can embrace your inner Medusa by turning your smile into stone...
Loading your lips with glittery gemstones...
Rocking a crystalized kisser...
Giving your mouth a marble makeover...
Turning heads with a jaw-dropping jeweled grin...
...or adding a touch of amethyst to your everyday look.
Seriously, this mineral makeup trend is guaranteed to make you look like a stone-cold fox.
Plus, it doesn't hurt that these lips look fabulous AF alongside a matching marble mani.
There's really no wrong way to get in on this gorgeous geode-inspired lip trend...
...so grab some pretty pebbles and start playing around with this edgy style.
Citations: Crystal Lips Are the New Beauty Trend Rocking Instagram (Teen Vogue)