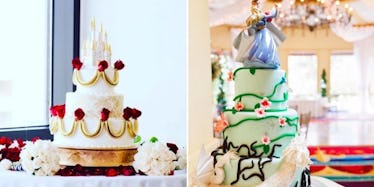 These Disney Wedding Cakes Will Give You The Ultimate Happily Ever After
Instagram
Every young girl fantasizes about the day she finally marries her Prince Charming and lives happily ever after.
If your goal is to have the best fairy tale wedding in the entire kingdom, you'll need the perfect Cinderella gown, a dreamy decor and a whimsical cake that will blow your guests away.
Remember when we gave you a glimpse of those gorgeous geode wedding cakes a while back? Well, if you thought those sparkling sweets looked pretty damn magical, just wait.
We recently came across another dazzling dessert trend that will make all of your delicious dreams come true.
Behold: fairy tale wedding cakes.
Yep, it seems that a lot of brides are foregoing the boring old white frosting for a variety of Disney-inspired cake designs that look like something straight out of a foodie fairy tale.
Because let's be real, every princess bride knows no Cinderella ceremony would be complete without stuffing your face with some bippity boppity baked goods.
Whether you're looking for some desserts inspired by your favorite storybooks or a wedding cake topped with a sugar-coated castle, there are all sorts of enchanting eats guaranteed to make you cry tiers of joy before you ride off into the sunset.
Take a look at the pictures below to see these awesome Disney-inspired wedding desserts.
Cinderella's Castle
Mickey and Minnie Mouse
"Beauty And The Beast"
"Alice In Wonderland"
"Sleeping Beauty"
"The Little Mermaid"
"Aladdin"
"Cinderella"
"Tangled"
"The Lion King"
"Snow White" Cupcakes
Animated Fairy Tale Cake
Tinker Bell
"Up"
"Wall-E"