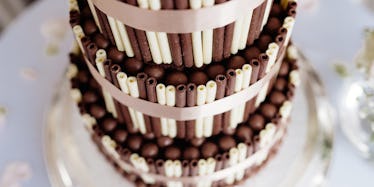 These Nontraditional Wedding Desserts Will Make You Ditch Your Boring Vanilla Cake
Shutterstock
Nowadays, it seems like more and more couples are ditching the normal wedding traditions for all sorts of unique alternatives.
Yep, there's all sorts of ways you can make your wedding stand out from the rest, whether it's going against the grain by choosing a colorful wedding gown, opting for a pair of alternative style wedding bands or skipping out on the church setting for a dreamy elopement.
But if you ask me, the best alternative trend that's recently popped up on our radar is alternative wedding cakes.
Lately, it seems like a lot of brides choose to swap out the traditional white, tiered cake for a mouthwatering substitute that's a bit more memorable. From mountains of pastel macarons and delectable stacks of frosted doughnuts to carefully arranged cannolis, there's an endless amount of wedding-worthy desserts out there that make a great alternative to the common wedding cake.
So, before you settle for a boring old vanilla cake covered in ivory buttercream, you might want to consider celebrating your big day by stuffing your face with some of these creative cakes and bougie dessert bites. Trust me, you wont be disappointed with these nontraditional treats.
Take a look at the pictures below to see some wedding cake alternatives that are guaranteed to make you fall in love:
You can ditch the traditional wedding treats for a mesmerizing macaron cake...
A sweet tower of strawberries...
A precious arrangement of pie pops...
A delightful display of doughnuts...
A mountain of precious mini pies...
...or some decadent little doughnut holes.
You can swap out the cake for some DIY s'mores...
A few tantalizing tiers of cake truffles...
An eye-catching cream puff creation...
A cake constructed out of Oreo cookies...
...or a charming churro confection.
This cannoli cake is what wedding dreams are made of...
...and don't even get me started on this tree of woodland wedding treats.
Just look at this tasty tower of tarts...
This sweet stack of chocolate chip cookies...
This elegant Rice Krispies cake....
...and this colossal cinnamon roll creation.
You'll want to say "I do" to this bougie mountain of brownies.
This waffle cake is basically the definition of wedding dessert goals.
You can't go wrong with an ice cream sandwich cake that will melt your heart...
...or a flawless cake made out of ice cream cones.
This tipsy treat is sure to get the reception party started. Cheers!