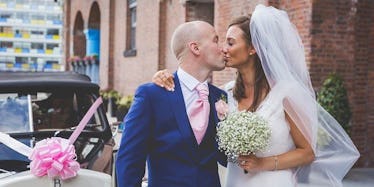 Why You Shouldn't Give A Sh*t About Those Cringy Wedding Hashtags
Right now there are 35,562 #MrAndMrsSmith posts on Instagram.
You can probably guess that a fair amount are an ode to the film that gave us #Brangelina. The rest? Well, they belong to the unoriginal couples who attempted to generate a non-obvious hashtag for their wedding day.
Nice try, guys.
By now, we all know splicing together first names for the sake of a cool couple moniker is no longer fetch, and so early 2000s (Bennifer anyone?). Sorry, #GIJoe.
It seems that now, the true measure of your relationship compatibility is that unique, witty wedding pound sign you attribute to your big day.
Your strategically selected wedding #phrase has arguably become one of the most important parts of getting married. It amasses all the pics of your drunk-dancing friends and family into an e-scrapbook, assembled for your joy (or embarrassment) at a later date.
Those memories are forever locked into the Matrix, and it's easier than getting your friend's photographer to capture the moments for a pricey fee.
However, adding an uninspired hashtag like #RyanLovesAlex to your Instagram caption eliminates the fun from holy Millennial matrimony.
#WhyYouShouldHaveOne
I'll be honest: I hated my friend's wedding hashtag. And since brides are especially sensitive about their bridal responsibilities, I secretly created a separate one for my own Instagram posts rather than point out her lack of creative genius.
There was a weird play on her hubby's last name, and they crammed the wedding date on the end of their already-too-long hashtag.
Several friends must've had a similar aversion to the hashtag, since our group chat was filled with plenty of "Hey, what happened to that picture we took?" messages the next day.
We all agreed: The hashtag sucked more than not finding a potential bae at the event.
I know it all sounds like petty bullsh*t, but trust me, happiness consumes me when friends and family start settling down. I've endured my fair share of baby showers and wedding days, and I cry every time.
Still, bearing witness to every step of my friends' peak #adulting years needs some ingenuity to separate their particular pomp and circumstance from the social media humdrum.
#WhyItCantBeCorny
Whether you want a royal ceremony like George and Amal Clooney or a nontraditional, intimate fête like Jennifer Aniston and Justin Theroux, every detail of your day should be dynamic and personalized.
According to The Knot and Mashable, over 55 percent of all weddings had a hashtag in 2014, so nailing one down for your I Do's should be as important as making your floral arrangements and bridesmaids gifts Pinterest-picture.
Jazz it up a bit, will you? No one cares if your stress levels are higher than Wiz Khalifa on 4/20. You CAN generate a fabulous wedding hashtag! If your own creativity fails you, phone a friend.
For the record, I'm not married. Like, not even close.
Still, my fantasy wedding has a hashtag that's so unique, witty (and slightly ironic) my hubby and I will remember it as much as our first dance. As should yours.
All it takes is a proper pun to make for a happier recap of your happily ever after. But if you have even the slightly inkling your wedding hashtag is gonna suck more than your bridesmaids dresses, save us all the trouble of having to gossip about how bad it is and just nix it.