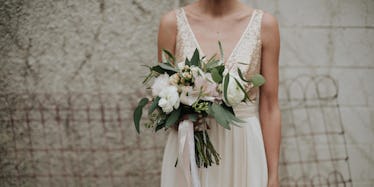 4 Non-Traditional Wedding Dress Options Celeb Stylists Say You Should Try
When you're starting to plan your wedding day, you may find yourself rolling your eyes, and huffing and puffing at some of the traditions you just don't want to incorporate into your big day.
Perhaps it's ditching the bouquet toss, or maybe it's saying a big "no" to wearing a veil or a traditional, white wedding dress.
If the idea of wearing a long white dress makes you squirm or feel basic, I have good news for you: You don't have to.
There's no marriage law stating you must wear white, or even a dress, to bind together your life with the person you love more than anything.
The truth is, you can wear whatever you want. (Except maybe a Snuggie. Don't wear that!)
If you're looking for a way to toss out the idea of wearing a traditional white dress to your wedding, two celeb stylists gave us alternate options we'll still look elegant in:
1. Go with a flattering alternative.
If you're looking to ditch the white, there are a handful of other flattering colors you can choose from instead.
Celeb stylist Sam Russell, who has worked with A-listers like Sophia Bush and Stevie Wonder, says, "If you're looking to be unique, go with a dress in a satin blue or warm purple color, or even find the right shade of champagne."
2. Get creative with texture.
If you're looking for a way to spice up the common wedding dress fabric of silk, sating, lace or even tool, celeb stylist Lauren Arkin suggests a style that's classic and elegant.
"I would recommend picking a dress with a lot of beading on it and you'll pull off a 1920's Gatsby look," she says.
Find me someone who WOULDN'T want to look like Daisy on their wedding day. Oh, you can't? YEAH, because EVERYONE would.
3. Let someone else wear all-white.
Once you've decided to skip out on wearing white, you can do something a bit different and very Kardashian-like by having your bridesmaids wear that angelic color instead.
"Have your bridesmaids wear white and you will feel like you're surrounded by your supportive, guardian angels will be forever remembered in those pictures," says Russell.
4. Do a power pantsuit.
For a Hillary Clinton-esque look that'll make you feel like a true boss up at the altar, Lauren Arkin recommends skipping the long flowy dress. "Go with a power pantsuit if you're looking for a more unique style," she says.
Or just pick the power pantsuit, because honestly, why not? You can dress it up (or down) and style it in a way that fits your personality and your age.