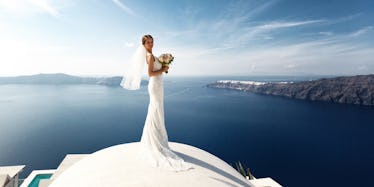 This Is The Wedding Dress You Should Choose Based On Your Zodiac Sign
Shutterstock
A bride's wedding dress is one of the stunning spotlights of her wedding day. All jaws will drop as she walks down the aisle looking like an absolute queen.
A wedding dress should reflect each individual bride's unique taste and personality. There are so many incredible styles, colors and fabrics to choose from, so when it comes down to decision time, it could definitely be a difficult one.
Once a bride finds "the one" meant for her, she'll most certainly know it. The right wedding dress speaks to the bride, you know? And the two will have an instant bond like no other.
What better way to identify the most incredible dress choice for your wedding day than by reaching for the stars? Thanks to this awesome astrology source, I was able to pinpoint a perfect dress option meant for each zodiac sign.
To all of my brides-to-be, hopefully these wedding gowns and advice will give you some major inspo for your big day:
Aquarius: Get whimsical.
The Aquarius gal embraces life with a positive mindset. She knows that possibilities are limitless, and there are no boundaries for this lady. Props to her for being super independent. A perfect look for an Aquarius bride's wedding day would be something unique and out-of-the-box.
Pisces: Give your look an artistic touch.
The creative Pisces will want something that represents who she truly is. Anything less is unacceptable. Her passion for art and romance trumps all, and she'll look like a stunner in a gorgeous tulle gown.
Aries: Show off what your mama gave you.
The confident Aries gal is not afraid of taking risks. This definitely does not stop when it comes to fashion. Who can hold her back? She's a determined woman with much to offer in all aspects of her life. A gown with an open, intricate back design will put the Aries bride in first place, right where she belongs.
Taurus: Bring on the romantic vibes.
Taurus ladies are romantics, and they tend to have a green thumb. What's better than an exquisite gown that reflects both qualities? This peach wedding dress defines garden romance, and it's embellished with floral accents. The Taurus gal seriously cannot go wrong with tulle on her big day.
Gemini: Socialize the evening away like a princess.
Gemini gals love making new friends. The Gemini socialite adapts to every unique situation, which is definitely one of her awesome qualities. A confident, social girl like this deserves a dress that highlights her social skills. What could be more fitting than a princess gown?
Cancer: Class it up in elegant lace.
The Cancer gal is a class act. With her knack for originality, empathy and deep love of friends and family all around her, this gal is bound to have some good vibes come her way, especially on her wedding day. An elegant lace gown, complete with a flower crown — of course — is hers for the taking.
Leo: Make a bold statement.
The passionate Leo likes to make a bold statement. Honestly, who's better than you, Leo? Eyes will certainly be all on her while she's rocking this colorful, sexy number. This gown meant for a lioness is complete with embellishments and lace.
Virgo: Know that it's all in the details.
The Virgo gal has a knack for being detail-oriented. This two-piece set is a beautiful choice for the Virgo bride. It's effortlessly chic, and the lace top is intricately designed. It's all about those details, so you rock it, girlfriend!
Libra: Embrace the outdoors in boho chic.
The Libra gal loves being outside. She knows how to mingle, and she exudes a peaceful vibe like no other. With a magnificent and fresh flower crown in her hair, this boho dress is definitely a winner for the Libra bride.
Scorpio: Lead the pack in an untraditional ensemble.
The fierce and passionate Scorpio is a leader in all aspects of life. She's surrounded by an awesome squad because she's born front-runner. The Scorpio will lead the wedding trends of the season by starting a hot fad of her own in an untraditional take on the bride's attire. The Scorpio bride will look effortlessly fierce in this lace jumpsuit.
Sagittarius: Channel your wanderlust through your gown.
The Sagittarius has a deep passion for traveling and values great experiences. This lady likes the feeling of freedom. What better gown than this relaxed halter top number to walk down the aisle in? It defines world-renowned traveler with an ultra chic vibe.
Capricorn: Highlight your traditional roots.
The Capricorn gal highly values family. She loves tradition, and that will most likely be shown on her wedding day. A traditional white wedding gown is the way to go for the Capricorn bride. Something this elegant will take her partner's breath away.