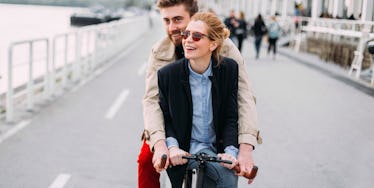 What To Wear On A First Date According To The App You Met On
Like most rational single New Yorkers, I have an entire folder on my phone dedicated to dating apps so all my failures and pathetic attempts at one-liners are in one place.
Apparently, the stuff you're supposed to do for your stock portfolio also holds true for your dating life: You need to diversify.
For example, if you have a date with a bartender from Tinder one night, you should go out with an orthodontist from Bumble the next. It protects you from putting all your money in one pot, so to speak.
But diversifying doesn't stop there. Every app is different and yields specific date-approved attire.
Here is what you should be wearing for each dating app you swipe right on.
Tinder: For a shady dive bar where no one can hear you scream.
All Tinder dates have two outcomes: you either want to take your clothes off immediately or you want to keep them on as firmly as possible while you sprint to the Uber you called from the bathroom.
Pair your favorite curve-hugging dress with a leather jacket, which can double as a straitjacket in a pinch. Make sure your heels are high enough, in case you need to throw it at your date's head and cause some permanent damage.
Ensure your clutch is large enough to house some mace, a Swiss Army knife and red lipstick. You know, just in case.
Bumble: For a fancy-ass dinner at a place neither of you can afford but looks impressive as f*ck.
Because Bumble found a way to bypass creepy 3 am messages from horny dudes, you can expect your date to be just a tad more upscale than your local dive bar. Girl, you're about to get ritzy, so you need to dress up.
Pair your favorite coordinating set with a dove gray duster coat. I personally like this greige set because it looks like something King Kylie would wear if she were ever plebe enough to use Bumble. A pair of nude cage heels and a clutch are all you need to look fabulous.
That bag also looks roomy enough to stash a couple bills, just in case your date "forgets" to bring his wallet in the name of feminism.
Tindog: For the dog park, where you watch your two pups hump each other.
Even if your date goes to sh*t, you'll at least get a good walk in with your pooch. Wear your basic tee, jeans and an army jacket with plenty of pockets for doggy bags. I'd also bring your phone and the same mace you carried on your Tinder date.
Throw on some sneakers, because there's nothing less sexy than wincing every time a rock gets trapped in your flats.
The League: For an art gallery opening, where the most exciting installation is the guy handing out free champagne.
Nothing but the best from your Yale-educated hedge fund manager. He'll try to show you he's not just a suit by taking you to something artsy hosted by "an old college friend." You'll pretend to care, but you'll really just want to be in pajamas with your cat. Oh, well. Free champagne is free champagne, even if its cheap.
Pair a sexy dress with gold sandals and a metallic clutch. Show just enough skin to make him offer up a free vacation, but not enough to confuse you for the call girl his boss is seeing on the not-so-DL.
Hinge: For a house party hosted by some chick you both went to college with.
The key here is to look hot as f*ck in case you see your old college crush. Oh, you're on a date? Who cares, we just came to see Jake from English Literature 101.
Pair a slinky wrap dress with suede over-the-knee boots to give off sexy come-hither vibes without showing off too much skin. A bright blue coat will also be impossible to forget, especially when you leave it in a pile in someone's bedroom.