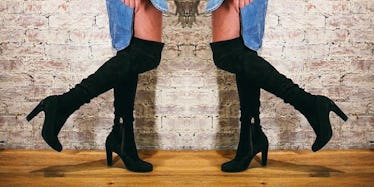 How To Wear Over-The-Knee Boots No Matter Your Height Or Size
I associate over-the-knee boots with two things: superheroes and strippers.
Seeing as I'm more about emulating Wonder Woman than "Pretty Woman" in my day-to-day, I've incorporated over-the-knee boots into my fall uniform of chunky sweaters, leather jackets and skinny jeans.
However, these long boots get their fair share of haters. A co-worker of mine claimed she'd "look like a Hobbit" if her 5'3" frame pulled them on, while another friend was convinced her "Tyra Banks thighs" would not squeeze into a pair.
I'd like to call bullsh*t. Any girl who has ever claimed over-the-knee boots don't suit her body is a liar. Like any piece of clothing, you need to find the right pair for your body type.
With over-the-knee boots, it's all about getting the correct fit, whether that's in the material (fake leather and real leather sit differently on the leg) or in the height of the heel.
Over-the-knee can hit right at your knee, right above it or at the thigh. Each style needs to be fit for your specific leg length.
Not sure if a pair will work for you? Check out the below styles and let us prove you wrong.
When it's Sunday and you want to look chill but not too chill.
Sheena paired her Steve Madden pair with low-slung jeans and a slim-fitting top. The long boots don't awkwardly break up her leg because they hit just above her knee.
The style both elongates her leg and creates a slimming silhouette.
When you squeezed in a morning workout and barely made it on time to the office.
Ashley bared some skin (in a totally fall-appropriate way) with high-rise disco leggings and a chunky sweater. Her Vince Camuto boots hit right at her knee and don't hug too close to her calves, which would make this a great option for women with wider calves as well.
They're also wide enough to provide plenty of movement (like avoiding getting hit by a cab).
When it's "just drinks" but you don't want it to be.
This is how to wear over-the-boots with a high heel and not look like you just stepped off a stage. Kayla paired her Vince Camuto pair with a denim tunic, perfect for a casual drink date or even the office.
Take note of the lack of platform, too. Platforms are for after midnight, ladies.
When you don't want to wear a skirt for girls' night out because you can't remember the last time you shaved your legs.
Going out but don't want to wear a skirt? Pair a graphic top with a pair of slim-fit leggings (opt for a high-rise if you're on the shorter side to give the illusion of longer legs) and tuck into your boots.
When you've upgraded from drink dates to actual dinner.
Pair a coordinating two-piece with thigh-high boots for a date. Be sure to opt for a skirt (as opposed to tucking these in) because the tight fit won't be forgiving to any awkward jean outlines.
When bae is coming over, and you want to look cute but still be comfortable enough to Netflix and chill.
There's no such thing as too much leather, so pair your boots with real or fake leather leggings and a drapey coat for a look that screams "f*ck summer, fall is here and I am ready."
When your middle name is Slay.
Channel Laura's dominatrix look with an outfit that's business-ready on top and leather party on the bottom.
Believe me, over-the-knee boots are made for looking like you give no f*cks.