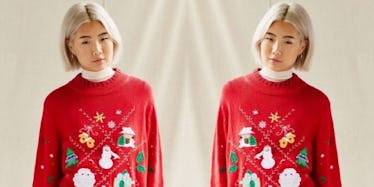 Here's What Your Ugly Christmas Sweater Is Really Saying About You (Photos)
Ugly sweater parties are as traditional as a Christmas ham, and just about as controversial.
Every year, I'm invited to some knit-themed soiree where everyone dresses up in garments their grandmas bought them.
As much as I try to find the ugliest holiday pullover, it always ends working for my figure. Funny how that works.
I've come to accept that it's just in my nature to be slightly cuter than the girl draped in Christmas lights and tinsel.
Trust me, you can't achieve perfectly hideous holiday attire without knowing exactly who you are.
The sports fan who can't give up hope on a beloved but failing team.
Real fans can never turn off their fandom. You'll always find a way to rep your fav team.
What to buy: Philadelphia Eagles Ugly Sweater, Fanatics, $56
The music lover who's obsessed with Drake.
Once you're tipsy, you won't hesitate to throw out your best "Hotline Bling" dance moves.
What to buy: 1-800 Hotline Bling Drake Sweater, The Golden Label, $25
The artsy person who didn't have enough time to make a sweater.
We know you would have preferred to make your own snuggly, Santa-approved knit.
But, due to your other unfinished DIY projects, you'll be better off buying a sweater you can convince other partygoers you customized.
What to buy: Urban Renewal Vintage Ugly Holiday Sweater, Urban Outfitters, $34
The person who wouldn't be caught dead looking ugly.
You would never purposefully wear a fashion faux pas.
In the spirit of Christmas, you'll wear an ugly sweater. However, it'll still be a kind of cute dress you can proudly wear in public.
What to buy: Co-ord Holidays Sweater Reindeer Fairisle, ASOS, $44
The party animal who lives for ugly sweater parties.
You're a sucker for themed soirees.
Finding the most ridiculous, overdecorated Christmas sweater makes the holidays more fun.
What to buy: Ugly Christmas Tree Sweater With Suspenders, Tipsy Elves, $45
The person who binges on Christmas movies year round.
Go ahead, sip your eggnog and make "kiss my ass" jokes. Other movie buffs will get it.
What to buy: National Lampoon Griswold Family Christmas Sweater, Ugly Christmas Sweater, $48
The person who only shows up to holiday parties for the free booze.
You love the holidays as much as the Grinch (before his heart grew).
While you may reach for a frumpy green sweater at first, you'd much rather make an obvious declaration about your seasonal mood.
What to buy: Meh Graphic Fuzzy Sweater, Forever 21, $28
The girl who thinks her boyfriend is the best Christmas gift.
Others may think the adoration for your lover is a bit obsessive.
However, you know you're just gunning for peak relationship goals.
What to buy: Naughty and Nice Two-Person Sweater, Tipsy Elves, $45