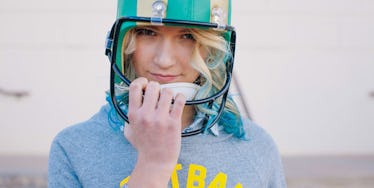 Here's How To Rep Your Favorite NFL Team's Colors, But Still Look Chic
Whether you're a die-hard Giants fan or you'd rather be watching "The Real Housewives of Atlanta" on a Sunday night, fashion is still king during football season.
As we watch from our couches, scarfing down burger sliders and Tostitos, we're constantly discovering ways to celebrate the NFL season with style.
Even if you're a sports-loving tomboy who cares about girly clothes as much as Trump cares about women, reflecting your love for the game in your gear is still a task to be mastered.
And sorry not sorry, it's no longer enough to throw on your fave player's number and call it an outfit.
Get into the game! Pledge allegiance to this all-American sport by enhancing your closet. But don't get carried away and sacrifice comfort for style.
It's football for goodness' sakes.
Here are eight ways to rep your team in urbanite style every Sunday (and Monday and Thursday).
New England Patriots: Color block to perfection.
Don't freak over a six-hour brunch interrupting the NFL's 1 pm and 4 pm games.
Instead, stroll into said midday party with your team on your back. Since Tom Brady beat his #Deflategate case, keep up with the AFC frontrunners with a red mini skirt and blue blouse. Go edgier for any occasion with black ankle boots and a biker jacket.
Green Bay Packers: Add some dramatic layers.
Tailgates are the main events of any football game, TBH.
If you find yourself bracing for autumn winds, surrounded by face-paint fanatics stuffing their pie hole with hot dogs, ditch summer-ready cropped lengths and add floor-sweeping layers to your look. A cheesehead? Lean toward emeralds and cheedar-colored hues to show your sartorial support.
Atlanta Falcons: Stay trendy, folks.
Dripping in obnoxious trends on the regular screams major makeover. But sometimes, revisiting your New York Fashion Week runway notes is the best way to elevate your taste. Is your team boasting a 2-0 standing like the Dirty Birds?
Then don't just settle for solids. Silently brag by suiting up in classic plaid and black overalls. Make sure onlookers know you're shining by adding a lining of silver to your look.
Denver Broncos: Give throwback style a fair shot.
Sure, sporting Peyton Manning's jersey and jeans works for a dive bar with sticky floors. But if you're hitting up a night-time football soirée, take your style ever upward by remixing your Victoria's Secret gear.
Wanna impress your boyfriend with your team loyalty? Opt for throwback style and colors like 70s flare jeans and Broncos original brown.
Arizona Cardinals: Match your lipstick.
Who doesn't want to kiss a hot football fan? Don't answer that.
In case of a game-winning smooch, stain your lips with a classic color Coach Arians can appreciate. Since the Cardinals are mighty specific about their shade of red, pair a heather grey sweater and tan Timberlands with bright rouge lips.
Seattle Seahawks: Make your shoes the focal point.
Carrie Bradshaw taught us life-long lessons about dressing up our feet. And even though she'd probably never condone sneakers, if you're as big a Russell Wilson fan as Ciara, go with bright green Roshe sneaks.
Every occasion doesn't call for such casual kicks, but if you've got to make a last-minute run to Whole Foods, you get a pass.
New York Giants: Use your accessories to rep your squad.
Major statements are often made in simple ways. Don't want to make your fandom supremely known?
Snatch up an accessory that still says, "Of course, I love football." For the love of all things G-Men, clutch a red pocketbook when you step out in a blue blouse and denim.
Add riding boots to the ensemble because what's autumn with 'em?
Pittsburgh Steelers: Nail your style every day.
Metallic nail polish is an ideal way to keep your team allegiance in mind, no matter if you're sporting their colors or nah.
Swap out Steel City's basic primary colors for a shiny gold and black coat on game day. On a workday? Pair your nail art with a camel-colored t-shirt dress and gold slip-ons to keep your Terrible Towel love burning.