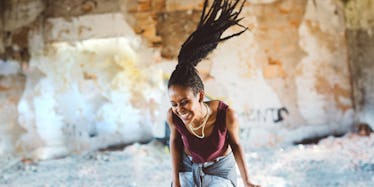 This 'Twerk Aerobics' Class Made My Booty Tighter And My Dance Moves Better
It's no secret my ass is lagging compared to other black women.
I don't want a Nicki Minaj-sized donk or anything, but I feel self-conscious about the way my booty moves. It's no secret black people can inherently stay on beat. Trust me, I can two-step with the best of 'em. Still, I've never been that great at isolating my butt with Amber Rose's skill or wining my hips with island-gal perfection.
So, I figured why not level up my twerk game at a Twerk Aerobics class? The workout focuses on hip and butt movements to provide an hour-long, high-intensity cardio workout. Along with improving your twerk moves, the class is intended to make you feel sexy and self-assured.
A day before Twerk Aerobics, I was feeling pretty damn confident. Minus the Jameson, how different from a dance party could this class be? Brandon Coleman, my instructor, addressed me as a "Twerk Champion" in his intro email. He also wrote, "I can't get Rihanna's song 'Work' out of my head!"
As the class got closer, however, my initial excitement wore off. Sure, I wanted to tackle a few new twerk techniques, but I was still nervous about keeping up. I was unsure about my butt's twerk abilities. I refused to be out-twerked.
When I arrived to class at the Ripley Grier Studio, I made a beeline for the back of the room with my two friends. Yep, there were white girls there and we'd later find out they were good at this whole ass-shaking thing.
Brandon, head of our twerk team, greeted us with either a booty pat or a warm hug. He made it a point to give us all a boost of ass confidence. We started with a five-minute warm up to Future's "F*ck Up Some Commas," a song that melted away my ass anxieties.
I couldn't throw my hands up like I normally would, since I was too busy crouching low, booty popping and flexing my arms all at once. It felt a little silly at first, trying to bend and bounce my body into positions I'd never mastered. As we kept going, I was determined to make this workout work for me.
I traded glances with some of the other women in the class, a silent confirmation that we were all in this together. The veterans stood in the front, acting as a guide for the rest of us and slaying every bounce. A handful of us couldn't keep up with the ladies who probably attended the 60-minutes class religiously, but we offered one another encouragement.
After a light stretch, we moved onto more intricate, high-energy moves. We crawled across the floor, targeting our legs, lower abs and arms. We booty-popped our way through a few more upbeat songs, then arrived at the moment Brandon and I had both been waiting for: Rihanna.
First up was "Needed Me," a dark, bass-heavy tune from RiRi's new album. The sexy song slowed down the pace and gave me a chance to practice perfecting my wine. Let me tell you, it was a shining moment for me. In my mind, I was re-enacting RiRi's dance solo.
I finally just let my body find the groove, releasing any stiffness I'd felt. Sure, my back muscles are paying for all of that gyrating today, but I improved my isolations in the process.
Then, "Work" came on and, seriously, I was too busy vibing out to remember what I learned during those three minutes. Once Rae Sremmurd's "Throw Sum Mo" came blaring through the speakers, my laser focus returned. We learned complicated cheer-esque choreo, which involved a high jump and split all while throwing our asses in a circle. I was dripping sweat in my nether regions by the end.
By the end of class, I was beat, but glad I'd put my booty to the test. I pulled Brandon aside to show me some twerk exercises I could practice at home to control my derriere and show up veteran twerkers at the club.
Though mainstream culture appropriated twerking, the dance is still often seen as scandalous or dirty. Even though we're generations away from its African origins, the booty-bouncing, thigh-spreading dance style is provocative and empowering.
We never broke out into Mapouka dance, but Brandon took a brief moment to honor his southern roots and "big up" the celebration of twerking there. Like Beyoncé's hot sauce and negro nose, twerking is a deep-rooted part of black culture. This particular style of dance is so normalized that we sometimes forget it can double as a legitimate health benefit.
Plus, I had way more fun that I expected. If I can feel this way every Wednesday night, sign me up.