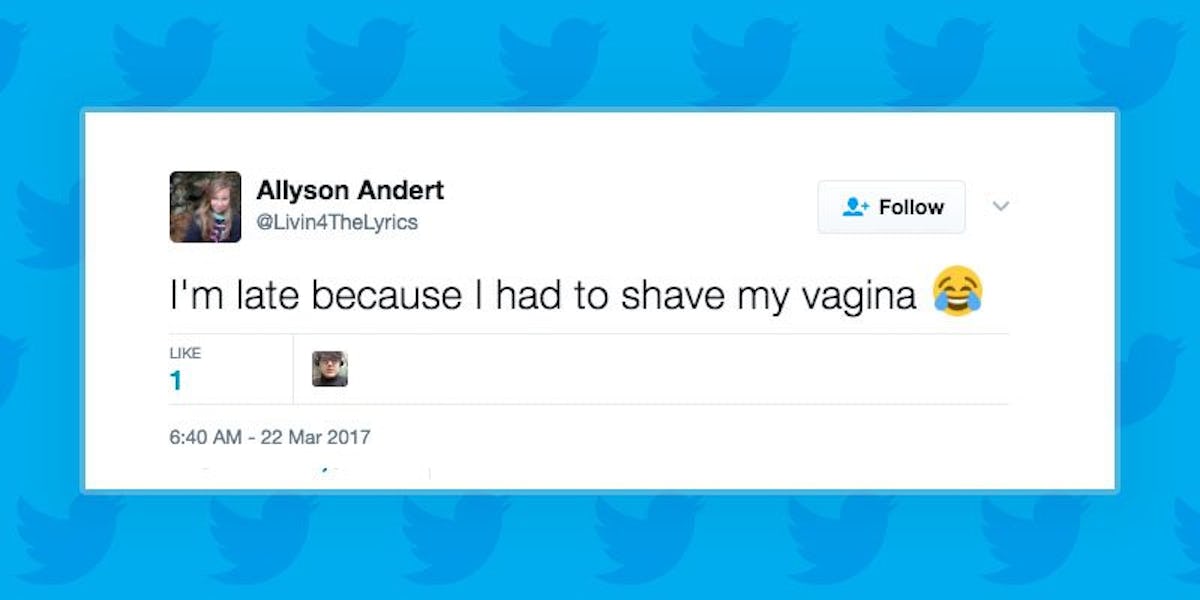 16 Tweets About Shaving Your Vagina Every Girl Will Relate To On A Visceral Level
Twitter
If you've come here looking for a raging rant about why being a woman is unfair sometimes, THEN YOU'VE COME TO THE RIGHT PLACE!
Sure, it's every female's personal decision as to how, when and why they groom (or don't groom) their bodies, but even I must admit the societal/media pressure to adhere to certain beauty standards is... definitely present, to say the absolute least.
One of the pressure traps loads of us have fallen into is resenting or disliking our pubic hair, which, scientifically speaking, HAS to be there for SOME reason, right?
But getting rid of it is a whole journey.
Waxing can be expensive, and hair removal products are freaky, which leaves most of us alone in our shower with ye ole razor and shaving cream. But damn, does shaving your vagina require an inordinate amount of attention to detail and careful strategy and technique.
Here are 16 hilarious tweets about shaving your vagina we can all relate to:
For most of us, if we decide we want to put the effort in, the pay off better be worth it.
Worship our hairless vaginas. WORSHIP THEM, I SAY!
Seriously, it's no small task. The process takes... some... serious... tiiimmeee...
Let's be real: Deep down, we're all incredibly lazy and just looking for maximum effect with minimal effort.
You guys, shaving your pubes is SUCH a complicated process and can go so wrong in so many ways.
Not to mention, it leaves EVERYONE more vulnerable to STDs. Yikes.
Honestly, we should all probably just get over our hairy vaginas and get on with the good stuff — like this hero.
There's a reason "long hair, don't care" is a saying, and you better believe it's my new beauty routine mantra.
And I even wrote you guys a song about shaving your vaginas. It goes like this:
Vagina hair, I wash you.
Vagina hair, I brush you.
Vagina hair, vagina hair,
Vagina hair, I love you.