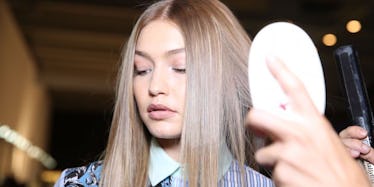 10 Ways To Turn Your Pale Winter Complexion Into A Summer Glow Without Tanning
Rex/Shutterstock
I don't know how it happened, and I don't know when it happened, but spring has sprung, darlings.
I went on a plane to Florida two weeks ago, and I clearly remember furiously dragging my suitcase through the icy streets of Manhattan as I shivered, waiting for a taxi to take me to the airport.
I got back to New York City on Monday, and suddenly, these gorgeous white blossoms have wildly erupted out of the trees that line my West Village street!
People are dining outside, and girls are gallivanting around in nothing but skimpy SUNDRESSES and little chic CROCHET SWEATERS.
Look, I love the spring. I mean, who doesn't love the spring? Only a cold-blooded sociopath would turn their nose up at such an innocent, sweet season.
However, I'll be the first to admit that some very real anxiety surfaces in the pit of my stomach the moment the weather gets warmer.
It's the worst kind of anxiety: ~superficial anxiety~.
My face just doesn't radiate that glowy, healthy spring right now. It radiates a nuclear winter.
I look like Angelina Jolie in the movie "Gia" when she's losing herself to drugs.
My winter complexion is sallow, dry, pale AF and a little on the sickly side.
It doesn't jive with the free-spirited energy and the smell of fresh flowers permeating through the polluted city air.
It looks weathered because I am weathered.
It was a long, freezing cold, winter full of harrowing politics, endless internet drama and generalized anxiety.
Now, I'm not one to ever go around pale-shaming myself.
I think every skin tone is beautiful in its own right, and even though I'm the palest of the pale, I refuse to use self-tanner.
Seriously, how does anyone use that shit (no seriously, message me)? It mucks up your clothes and stains your sheets a horrible shade of orange.
But lucky for me, this isn't my first springtime skin crisis.
And I happen to have the tools to battle my forlorn winter skin, honey.
I'm so obsessed with beauty and makeup, and I attended and graduated from the "Harvard of Makeup Schools" (The Makeup Designory) back in 2009.
I was a professional makeup artist for years after that.
And the greatest thing I ever learned? The art of turning a sallow, pale complexion, into a glowy, healthy, dewy one.
Here are my 10 expert steps in making your skin GLOW for spring:
1. Skin Laundry Laser Facial
Skin Laundry laser facials are a total game changer.
Known as the "dry bar" of "facials," Skin Laundry facials are these super quick, 15-minute laser and light facials that require zero downtime.
While the results definitely get better over time, you will see a noticeable difference in your skin after your first session (which is actually free).
They use crazy laser and light technology that makes your skin instantly look brighter.
After about four sessions, you will notice that your skin tone has dramatically evened out, and your pores look smaller.
I always am sure to get a Skin Laundry facial after I've been traveling or when I'm wildly hungover and need a superficial morale boost (which, let's be real, is all the time. So, I go every week.)
A single facial is $65 but you can get three for $180.
2. ExfoliKate by Kate Somerville
ExfoliKate, $85, Sephora 
This is my favorite skin care product ever, hands down.
ExfoliKate is an at-home exfoliation product created by Kate Somerville, the A-list Hollywood facialist. (I've seen Jessica Alba and Paris Hilton post-facial at her West Hollywood location, just saying.)
You just take a drop of the liquid, lightly wet your fingertips and for two minutes, gently rub the product into your skin in a circular motion.
Rinse off, and damn girl, your skin is looking as smooth as the ice skating rink at Rockefeller Center.
Argan Enlightenment Illuminizing Wand, $28, Sephora 
When I used to do makeup professionally, I always used this product on brides to give them that "I'm so in love, this is the best day of my life and I'm not nervous this is a giant mistake at ALL" glow.
It's a creamy, illuminating wand derived from pure argan oil.
I like to tap it on with my fingertips right on the tops of my cheekbones, down the bridge of my nose, in the center of my forehead and a tiny, baby bit on the cupid's bow above my lips.
Sometimes, I'll get really crazy and dab it on my eyelids and brow bone. It's really the most beautiful highlighter ever.
Bare Minerals Prime Time, $24, Amazon 
This is the best primer ever. It brightens up your sallow skin and creates an even, poreless canvas for foundation.
Plus, it's the only primer that doesn't make my acne-prone skin erupt into a million little pimples.
And it doesn't give you that waxy look, like a lot of the trendy, silicone-based primers on the market do. (I'm not going to name names because I'm a class act.)
Charlotte Tilbury Magic Foundation, $44, Nordstrom 
Charlotte Tilbury is a huge makeup company in the UK and is only just starting to explode in the USA.
Charlotte herself is a famous makeup artist (and the best friend of Kate Moss), and her products are killer.
This foundation is amazing because it's neither super shimmery nor super matte. It has a natural finish.
It also has amazing coverage (I don't screw around with that BB cream nonsense) and just brightens your skin, so it looks like its lit from within!
I use the palest shade, but that's because I haven't been outdoors since my first panic attack in 2004.
NARS Multiple in Portofino, $39, Sephora 
When you're pale, the last thing you want to do is look dry, babes. And you know what makes the skin look DRY? Powder.
This is why it's imperative you use a cream-based blush.
I know, it's very intimidating when you're not used to it, but it's actually really easy to blend. It's even easier than — dare I say — powder. 
I'll walk you through it, so don't stress.
Dab a little bit of NARS The Multiple in Portofino (a shimmering coral that gives you that "I just got off the ski slopes in Switzerland" look) on the apples of your cheeks.
The best way to find the apples of your cheeks is to smile really big, and the part of your cheek that bulges out is where blush should be applied.
Tap — don't rub — it onto the skin until it's nice and blended for a NON-powdery pop of color on your pale AF face.
Too Faced Sweet Peach Glow Peach-Infused Highlighting Palette, $42, Sephora 
This is a beautiful highlight and contouring powder combo from Too Faced.
I like to use it as a bronzer. I take a big, fat bronzing brush, sweep it over all three colors and contour right beneath my cheeks, right at the top of my forehead and edge of my jawline.
The pink from the blush mixed in with the bronzer stops it from looking muddy.
I know I said no powder, but this is a glimmery, light-weight powder that doesn't have a matte, dead-looking finish.
PLUS, you're not supposed to put this everywhere, just in the contours.
The rest of your face should be gleamy-creamy.
Urban Decay Naked Illuminated Shimmering Powder, $32, Sephora 
This sheer illuminating powder is to be used on the clavicles, babes.
Nothing says healthy complexion like dewy clavicles.
Take a blush brush and highlight your décolletage. Don't put it on your face (unless you want to look like a disco ball).
"Instant Radiance" Shimmering Body Oil, $48, Nordstrom 
I like to mix this slightly bronzy, shimmery oil into my body lotion and go to town with it all over my body.
It won't make you look tan, but it will make your skin look warm, like you're happy and like you take all of your vitamins.
And come on, who has the time to be hopped up on supplements every day? I certainly don't.
Thanks to these products, I can fake a Gwyneth Paltrow-looking healthy glow, without having to live off a raw diet and take handfuls of vitamins.
Happy spring, kittens!