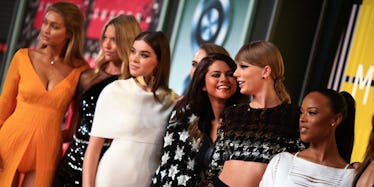 Taylor Swift And Her Nice Girl Gang Are The Real 'Plastics' Of 2015
In 2004, the world met Regina George, and no woman was ever the same -- that is, until Taylor Swift came into her own.
Portrayed by Rachel McAdams, Regina was the expensively highlighted, entitled daughter of a fake-boobed mother and absent father. With a rumored modeling contract in Europe and distaste for wearing pink more than once a week, she reigned supreme over her high school and so-called best friends.
Together with well-meaning airhead Karen Smith and Toaster Strudel heiress Gretchen Weiners, Regina and her gang of "Plastics" came to represent the monstrous force in every female's social group.
Whether you're 16 or 26, chances are you've encountered the "Queen Bee" and her following. In both high schools and brunch tables, women could finally stop being afraid of the bogeyman -- the popular clique.
In a post "Mean Girls" world, pop culture seemed devoid of bullies and girl gangs. It was as if we exorcised the "Plastics" just by naming them. After laughing at the missteps of Regina, we were freed from her tyranny.
But then, in the wake of Regina, Taylor Swift came along.
A flaxen, country-crooning Queen takes her throne.
In 2006, Swift emerged onto the music scene with the twanging single "Tim McGraw," a far cry from the Katy Perry-like hits she puts out now.
At first glance, Swift is nothing like Regina. Where the teen queen loved rowdy high school parties and ruling with an iron fist, the pop chart-topper famously enjoys baking and naming cats after television heroines.
Swift has always gathered a crowd of similarly aged women around her, but this past year has seen a serious uptick in friend branding. No longer content to host private parties in her Nashville apartment, the 25-year-old now struts her famous pretty girl posse around town -- see this year's VMAs, for example.
The Haim sisters, Lorde, Karlie Kloss and Selena Gomez count themselves among Swift's closest allies. And she doesn't take ruling them lightly.
Ex-boyfriends are always off limits.
In "Mean Girls," Regina and newcomer Cady Heron face off for the devotion of Aaron Samuels, a dopey jock type who also happens to have a heart of gold. Aaron is only guaranteed a spot on the A-list as long as he follows Regina's rules, however.
If that plot sounds familiar, it's because you've seen it play out in real life tabloids as well as on screen. Swift loves to pen pop hits about her ex-boyfriends, which range from actor Jake Gyllenhaal to One Direction singer Harry Styles. As reported in Vanity Fair, Swift loves to make it easy for her fans to identify and seemingly blackball the men who've broken their heroine's heart.
"Dear John," right after a breakup from John Mayer? Challenge us a little more, Tay. And don't even think about buying his album if you support Swift -- "that's just like, the rules of feminism."
Nobody out-shines the Queen Bee.
Regina never allows Gretchen to wear hoops -- "she told me hoops earrings were her thing" -- because no young royalty likes being upstaged by sidekicks. When it comes to Swift's pack of model and musician friends, the only rule seems to be that she remains the standout.
In any other social setting, powerhouse models like Karlie Kloss and Cara Delevingne are superstars. When posing for photos in a group, however, it's made clear they're secondary to Swift. Even at the VMAs, all nine women played backup to their pop star friend. Admittedly, a music awards show does make it Swift's special night -- but this is certainly not the only time it's been clear. No one's calling the gang "Lily Aldridge and friends," for example, no matter what event they're attending.
Whether it's sporting spangled sweatpants when the rest of your buds are in gowns or upstaging your best friend's birthday with a photo of your new boyfriend, these are clearly Regina moves.
In this girl gang, it's the outside that counts.
Let's be clear: Taylor Swift is not a bad person. The newly-minted pop star has made it apparent she loves connecting with the teenage fans affected by her songs and has been photographed doing charitable work far more than once. In her personal life, Swift commits to using her advantage in positive ways.
But when it comes to friends, the same drive doesn't apply. Remember the girl in high school who posted pictures but didn't invite you? That's this group's M.O. They post shots of giggly, exclusive parties and impromptu Fourth of July getaways because they are wealthy, beautiful and young. These women are leading a better life than you, and they'd like you to know it.
In the words of one Cady Heron:
It was better to be in the plastics, hating life, than to not be in at all. Because being with the plastics was like being famous... people looked at you all the time and everybody just knew stuff about you.
Rather than showing fans the real meaning of female friendship -- the long talks, the intense bonds formed -- Swift and her famous friends just serve up a steaming dish of FOMO.
Regina would be so proud.