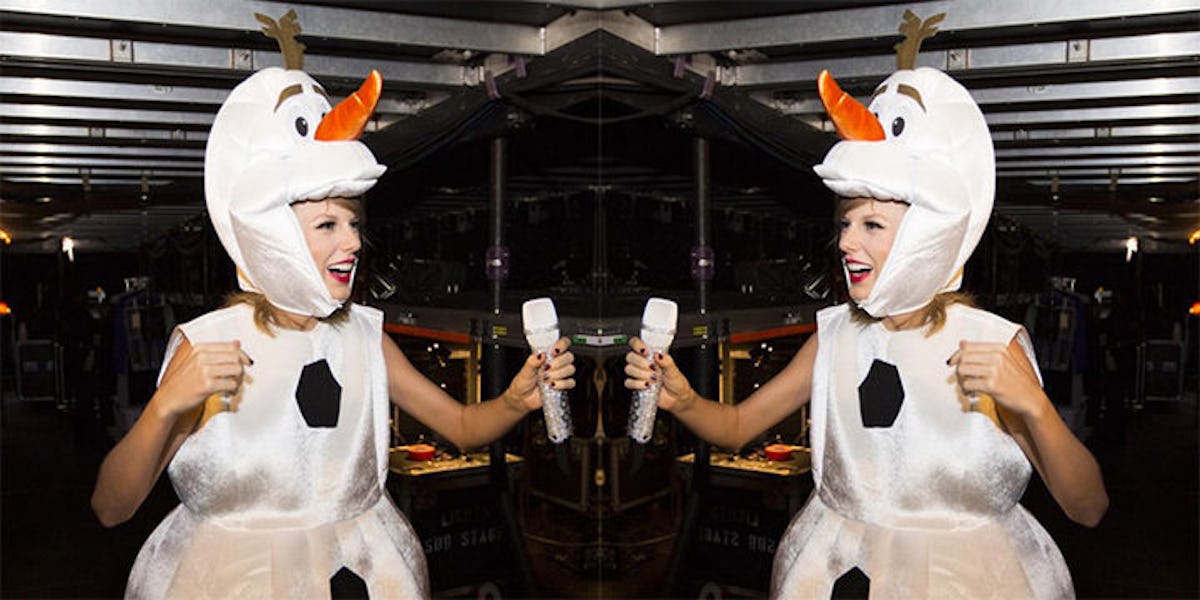 15 Times Taylor Swift Was The Ultimate Basic B*tch During The Holidays (Photos)
Forget the Pumpkin Spice Lattes and fabulous hats of fall, because winter is the real basic bitch season.
Over the next few weeks, your Instagram feed will be bombarded with festive coffee mugs, Christmas trees, fuzzy slippers and lots of onesies.
If those same basics worshipped a celebrity goddess, she would certainly be Taylor Swift.
When she's not Instagramming photos of her squad at various exotic locations (why do I never get the invite, Taylor?), she's posting the exact same things every other girl in the world uploads during the holiday season.
Namely, her cats, homages to "Frozen" and a sh*t ton of sequins.
The glittery mani, #squadgoals.
Not included: The lengths everyone has to go through to remove all that glitter.
The Christmas sweater that's so ugly it's cute.
Bonus points if your sweater has your face on it.
The Christmas morning candid that isn't candid.
Wait, hold on. Let me practice my surprised Christmas present face.
The token turtleneck photo.
Shame she didn't partake in the turtleneck hair trend, though.
The ultra-bedazzled New Year's Eve outfit.
Pro tip: Don't leave your house until you can resemble a disco ball on acid.
The awkward holiday party snaps.
Creepy bunny masks are optional.
The weird Christmas present you didn't request.
Thanks, Dad, I always wanted a plastic pink flamingo.
The Christmas cards you receive with your name wrong.
Who the f*ck is Becky, Aunt Marge?
The awkward cat selfie.
The fuzzier the cat, the closer you are to holiday bliss.
The baking Pinterest fail.
These were supposed to be cinnamon rolls.
The moderately creepy homage to "Frozen."
It ain't an awkward office holiday party until someone drunkenly karaokes "Let It Go."
The "I totally baked this with my bare hands" cake.
You're practically a certified baking goddess and you must share your skills with the world.
The homage to adorable knitwear.
Glove Instagrams are the new #manimondays.
The humble gift brags.
You're totally not bragging about the presents you got, but you kind of are.
The "my tree is better than your tree" show-off.
Your tree ain't got nothing on my tree.