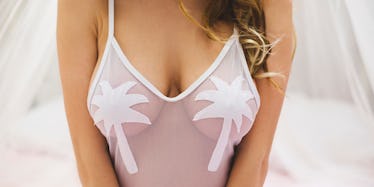 How To Take Your Big Boobs Braless This Summer Without Flashing Anybody
Maybe it's the sweltering summer heat (shout out to the A train, which only sometimes has air conditioning) or the recent emphasis on body positivity, but I'm feeling like it's time to wear less than ever before.
That's right, my DDs and Cs and Es, this is the time to let your girls swing freely. Assuming you can actually unclasp your bra without cracking your vertebral column, summer is the most accommodating time to embrace the natural shape of your breasts. Whether they're long and dangly or full and plump, there's no way they'll ever look better than this.
So, what's a bodacious lady to do with two heavy breasts that like to get in the way, pop out of clothing and generally ruin her life? I have a few strategies for you that I've really enjoyed testing. (Many people in my life have actually asked me to please stop discussing my free boobs so much.)
You'll need to start by taking a long, hard look at your chest in the mirror. Ask yourself: Are my breasts green? Are there three of them? If the answer to both questions is "no," then let me be the first to congratulate you on having absolutely A+ knockers. There's no time for self-consciousness when you're literally getting saggier by the minute. Embrace your body, quick!
Now, you have to get dressed.
In a casual office, use a loud pattern and conservative shape to keep your braless girls out of sight and mind.
It's a 90-degree day, you're headed into the office and can't fathom any extra fabric (let alone underwire) touching your skin. What's a DDD to do? Covering your nipples with silicone or fabric petals, pull on a crop top in a dramatic pattern — preferably one with a conservative neckline, so there's no danger of a cleavage line. The fabric should be thick and sturdy, the better to hold in your girls.
Pair the look with sporty sneakers and a simple, elegant pencil skirt. In no time, you're the coolest girl at the office.
Silicone Cover Ups, $11, Amazon 
When it comes to a summer dinner date, choose a boxy shape with cool girl accessories.
I own at least seven sundresses with what I like to think of as the perfect silhouette for boob freedom: a boxy shape, low neck and thin straps. Because the canvas-y fabric doesn't cling to your body, your breasts are free to chill by themselves under there. The little added movement as you walk is sexy, and you'll be showing off your toned shoulders instead of your knockers for once.
To complete the look, I pair the dress with a wooden-heeled, strappy sandal and minimalist jewelry. The entire ensemble says, "I'm sophisticated, but sensual. Thank you for buying me this pad Thai and fried ice cream."
On Saturdays, play up a racy neckline and interesting textures.
It's the weekend, so let it all hang out. This is the time to try out trendier pieces or, if you're me, pretend you're Kim Kardashian casually buying a bagel at the corner bodega. (She orders avocado and pepper, never cream cheese. I actually have no idea, but that seems right.) A lace-up bodysuit will show off your inner side boob. It'll also allow your breasts to hang freely like Khloé Kardashian without forcing them into the sweaty mess of cleavage bras often create. Again, pasties are an asset here.
Finish off your daytime playtime outfit with brightly colored espadrille slippers (Taylor Swift is a big fan of those) and classic denim shorts in a modest length.
At the bar, the only way to go is holographic.
Finally, you're headed out on the town after a long week of work. Show off your best power moves in a black satin playsuit. Its unexpected mesh ab window shifts the outfit's focal point from your breasts to your stomach, affording you the freedom to ditch your strapless bra. Just don't jump around too much, or you'll definitely poke an eye out. These things are heavy.
The last step? Add a holographic bag in a funky shape and extra-modern flatforms. You're polished, chic and, most importantly, not hiking your bra up all night.
Adjusting to life without a bra can be a learning curve, sure, but you'll thank me. When the temperatures rise, the first thing to irritate you is always your undergarments. Just give the free-boob lifestyle a try.