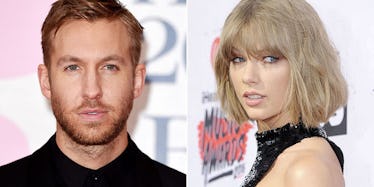 Calvin Harris Fans Are Trolling Taylor Swift On Instagram With This Emoji
REX/Shutterstock
Calvin Harris just called out Taylor Swift in an epic twitter rant.
The 32-year-old DJ is pissed at the 1989 singer for releasing information about his latest song, "This Is What You Came For."
On Wednesday morning, Swift's team revealed she wrote her ex-boyfriend's collaboration with Rihanna. A source explained Taylor went by the pseudonym Nils Sjoberg in the credits and still has publishing rights to the song.
Calvin Harris had a lot to say about the news breaking loose.
He accused Taylor's team of trying to make him look bad, and he urged his ex-girlfriend to focus on her current relationship with Tom Hiddleston instead of trying to bring him down.
Yeah, things got UGLY.
But now fans are jumping to Calvin's defense by posting emojis of a snake on Taylor Swift's Instagram.
It looks like people are pretty pissed at Taylor after she jumped from Calvin Harris to Tom Hiddleston so soon.
And now the drama surrounding "This Is What You Came For" is putting people over the edge.
The snake emojis go on past the few screenshots I have here. It's clear Calvin's fans are not happy with Taylor and really want her to know that.
In the end, at least Taylor has her squad, right?