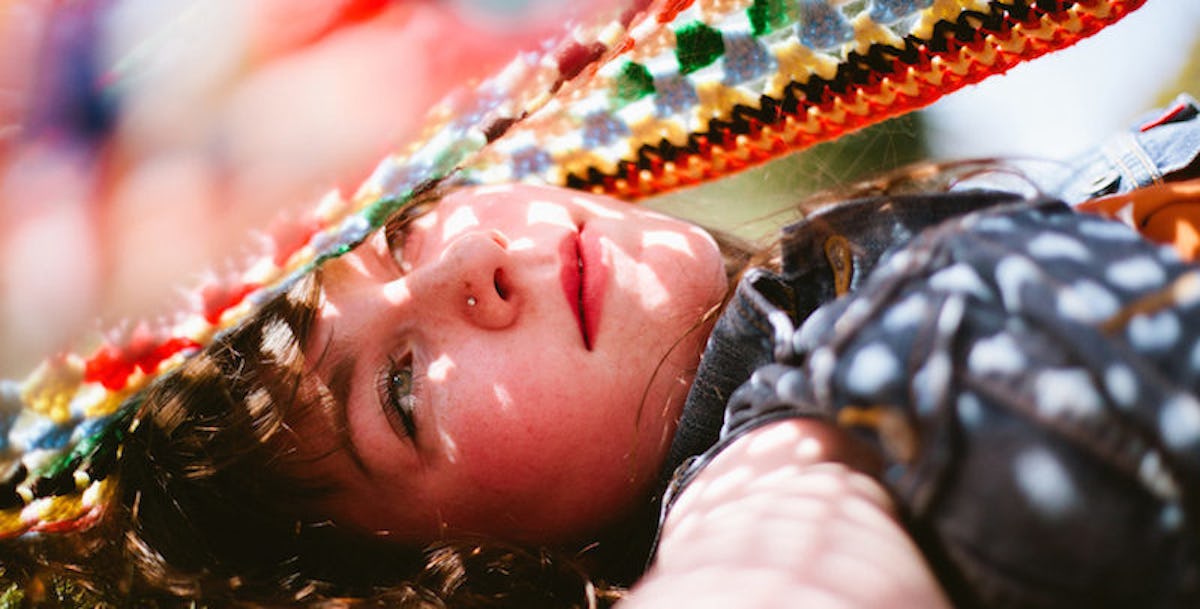 This Is How To Not Sweat Off All Your Makeup This Summer
Joe St. Pierre Photography
The other day, I was at an event with Katy Perry — yup, the Katy Perry — and complimented her on her blue smoky eye and glowing skin.
"How do you not sweat through all of it?" I asked. "You wear a lot of makeup on stage, too -- how does it all stay on?"
She looked at me incredulously, like I was some sort of freak for even saying the word "sweat" aloud in public.
"Um," she began. "I don't really sweat."
OK, hold up. What? How does someone not sweat? I mean, I'm a sweat machine, so I assumed everyone else was, too. I have a family-pack-sized box of blotting papers from Costco chilling in my mom's basement that I've been using up like water.
What makes my sweat situation even worse is that I have oily skin. I also wear a ton of makeup most days, which has a tendency to slide off my face at some point halfway through my nine to five. This blows, mainly because I usually get drinks or have a date after work and would really love it if my makeup didn't end up around my ankles around noon.
Seeing as I'm not Katy Perry (and really, who is?) I touched base with Caroline Hernandez, senior artist at MAC Cosmetics, for some much-needed intel on sweat-proofing your summer makeup.
Never, ever ditch your primer.
OK, time for some makeup 101. A primer is what you apply after moisturizer and before foundation. It helps prep your skin for makeup and acts as a barrier between your face and whatever else you pile on it. It also helps your makeup stay on longer and not get all patchy and gross by lunch.
Hernandez recommends getting all double-duty and snagging a primer with sunscreen, especially if your moisturizer doesn't already have any SPF.
MAC Prep + Prime Face Protect Lotion, $31, Macy's 
Pick a waterproof foundation.
You don't wear non-waterproof mascara to a sad movie, right? It's the same thing with foundation: If you know that your face will get wet (be it from water, sweat or other…bodily fluids), go for a foundation that won't disintegrate with any H2O.
MAC Pro Longwear Nourishing Waterproof Foundation, $34, Nordstrom 
To apply your foundation, Hernandez recommends a synthetic slant brush for a natural finish, and a firm angled foundation brush for fuller coverage. Don't forget concealer either; MAC has a waterproof one that basically glues on to your blemishes and only comes off after several hours of prayer and cleansing oil. That sh*t is so heavy-duty, I'm probably still wearing mine from last summer.
MAC 170 Synthetic Rounded Slant Brush, $35, Nordstrom ; MAC 193 Synthetic Angled Foundation Brush, $35, Nordstrom 
Use another foundation as bronzer.
Instead of opting for your favorite powder bronzer, go for a foundation that's a bit darker than your natural skin tone and apply it with a duo fibre brush. As always, opt for a waterproof foundation.
MAC 187 Duo Fibre Brush, $42, Nordstrom
This is an awesome way to get rid of those "summer" foundations that you only keep around because they suit you at your ultra-tannest, too.
Mix your blush and foundation for a long-lasting skin cocktail.
Instead of swiping on your powder flush, Hernandez recommends opting for a cream blush in a shade a little brighter than what you would normally wear. Next, mix your waterproof foundation with your cream blush on the back of your hand, and quickly apply it to your cheeks with a duo fibre brush. By mixing your blush with your foundation, you're giving your blush a longer shelf-life — um, face life — and it won't cake off as quickly.
MAC Cremeblend Blush, $23, Bloomingdales 
Use a cream shadow as an eyeshadow base.
Eye primers? Great, love 'em. Even better? Layering a cream shadow over your primer. It not only infuses a bit of color, but it provides an even better base for the rest of your eye look to adhere to.
Hernandez recommended the MAC Pro Longwear Paint Pots, and I can't help but agree — I use the shade "Constructivist" nearly every day and it's mind-blowingly gorgeous.
MAC Pro Longwear Paint Pot, $19, Nordstrom 
Or, you know, you can drink whatever magic potion Katy Perry drinks and you'll never sweat again. That sounds a whole lot easier, right?